Duffy unhappy with penalty call
August 27, 2012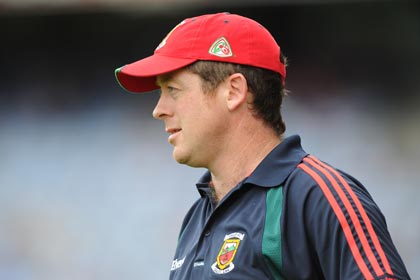 Tony Duffy when manager of the Mayo minors.
Mayo minor manager Tony Duffy felt referee Cathal O'Hagan erred in awarding Meath a late penalty which transformed yesterday's All-Ireland semi-final.
Mayo captain Adam Gallagher was accused of making a foot block to deny Cillian O'Sullivan, even though TV replays showed that the ball had, in fact, struck him on the back of the leg.
"My instinct is that it wasn't a foot block, but I was a long, long way away," Duffy said.
"I believe it was controversial, but I'd have to look at it again. All I know is that we were in a very good position at half-time and we didn't do enough in the second half to see out the game. Meath pinned us back and kept us in our own half under severe pressure and we couldn't get out.
"When we did get out, we gave away the ball foolishly so hats off to Meath. They possibly deserved it, but I don't know about that penalty decision. I'd have to go back to it again."
He lamented: "We didn't reach the heights that we reached against Tipperary in terms of attacking football. That's the most disappointing aspect because we wanted a performance and probably didn't get one."
Most Read Stories