FL1: Mighty Mayo run riot as Dubs implode
March 31, 2012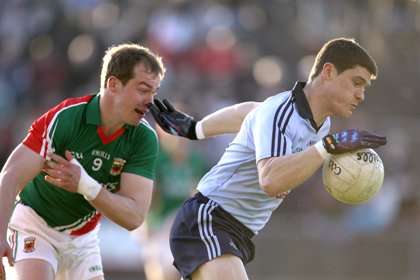 Mayo's Danny Geraghty chases after Diarmuid Connolly of Dublin during the refixed Allianz FL Division 1 game ©INPHO/Morgan Treacy
Brilliant Mayo careered to a stunning 0-20 to 0-8 victory over 13-man Dublin at Castlebar.
The sides were back in McHale Park for this rematch after the original fixture had been abandoned at half time due to fog, with the westerners in complete control at the time and Dublin down to 14 men. Tonight, it got even better for Mayo and much, much worse for the reigning Leinster and All-Ireland champions, who had both Paul Flynn and Diarmuid Connolly dismissed in the second half.
As well as the two reds, Dublin also collected seven yellows on their journey west. Their manager will not be happy with either the performance or the lack of discipline shown. His team lacked hunger and seemed to display real signs of complacency. But credit Mayo, who were excellent.
This rousing victory propels them into third place on the Division One table, level on six points with Down and Dublin but well ahead of both on points difference after notching +12 in this display.
The effect the red cards had on the outcome was minimal as the winners were in control of this match from the off and established an eleven-point cushion while the sides were still operating at fifteen men apiece.
The large number of home supporters amongst the official attendance of 10,153 (all of whom were admitted free of charge) certainly enjoyed their night's entertainment. We will resist the urge to say they got value for money!
Man of the Match Conor Mortimer enjoyed his night, too, registering eight points as he became his county's all-time leading scorer.
Mayo produced a rousing first-half display to take a massive 0-13 to 0-5 advantage into the break, with Conor Mortimer, Michael Conroy and Alan Dillon running the Dubs defence ragged.
There was a poignant moment before throw-in as a minute's silence was observed for the late Dublin-born Australian Rules legend Jim Stynes. When the action commenced, it was the hosts who registered the first point courtesy of Conroy.
Mortimer missed a chance to double the gap but James Horan's men continued to attack and that man Conroy was on hand to turn his man and slot over their second point in the seventh minute - an excellent score. A minute later, Bryan Cullen opened the All-Ireland champions' account with a lovely finish.
The Connacht champions continued to dominate and Alan Dillon, Mortimer (free) and Dillon again pointed inside three minutes to make it 0-5 to 0-1 after twelve minutes. Diarmuid Connolly and Donal Vaughan each picked up a yellow card and Mayo got three of the next five points before Dillon made it 0-9 to 0-3 after 25 minutes - not many would have predicted that!
Paddy Andrews and Cullen had pointed for the visitors, while Mortimer had added a brace to his record-breaking tally - in the process he became Mayo's top scorer of all time. David Clarke made a good save to deny Kevin Nolan a much-needed Dublin goal and Ger Brennan also went into the referee's book before Conroy added another.
The impressive Conroy / Mortimer double act combined again for the latter to knock over Mayo's eleventh point on the half-hour and there were further scores from Barry Moran and Mortimer - who could have gone for goal - as the gap went up to an amazing ten points, 0-13 to 0-3.
Mossie Quinn popped over a couple of late frees, with Clarke making another vital intervention in between, but Mayo remained very much in control at the short whistle, leading by eight points.
Upon the resumption, rampant Mayo continued where they had left off with quickfire points from Mortimer and Vaughan (2) and it went from bad to worse for Pat Gilroy's completely out-of-sorts team as substitute Paul Flynn received a straight red card for elbowing an opponent.
Brennan pulled back a point for the visitors but they were still ten points adrift and down a man. But Connolly (free) added another: 0-16 to 0-7.
Any hopes of a miraculous Dublin revival were snuffed out instantly as Mayo knocked over two more points in as many minutes, with Mortimer and Dillon hitting the target to re-establish an eleven-point gap.
Keith Higgins and Connolly had a wide at either end before Conroy pointed and Pat Gilroy's woes multiplied as his team was reduced to 13 men with Connolly collecting his second yellow card.
Mortimer took his eighth point and both Conroy and Dillon wasted goal changes as the winners cantered to the finishing line.
Substitute Dean Rock got the last score of the day for a very disappointing Dublin side. This result will cause plenty of debate amongst GAA followers nationwide. What happened to Dublin tonight? And what happened to Mayo?!
Most Read Stories