SFC quarter-final: Brave Mayo shock Rebels
July 31, 2011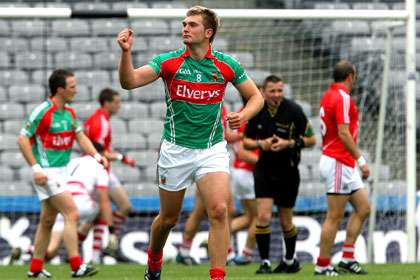 Aidan O'Shea celebrates Kevin McLoughlin's goal as Mayo went on to shock Cork in the All-Ireland SFC quarter-final at Croke Park.
Mayo 1-13
Cork 2-6
A fearless Mayo side stunned Cork this evening at Croke Park to set-up an unlikely All-Ireland SFC semi-final against Kerry in three weeks' time.
James Horan's charges put together a splendid second-half performance in front of a small crowd of 22,732 at GAA HQ, which saw them outscore the Rebels by 0-7 to 0-1, with Andy Moran, Cillian O'Connor and Aidan O'Shea all putting in superb displays for the 5/1 outsiders.
Cork made a dream start to this intriguing game, as Donncha O'Connor's fifth minute penalty helped them towards a six-point lead come the quarter hour mark, but the Connacht champions hit back with a brilliant goal from Kevin McLoughlin to trail by only two at the interval.
The first four points of the second-half all went to Mayo, with Cork's sole score coming from John Miskella, who would see red towards the end, in the 51st minute, as Conor Counihan's team simply fell apart to concede their county's first championship defeat to Mayo since 1916.
The champions couldn't have asked for a better start to this quarter-final when they were awarded a penalty after five minutes when Donncha O'Connor was dragged down by Ger Cafferkey and the in-form full-forward drilled the ball into Robert Hennelly's right-hand corner.
Mayo had a penalty shout of their own turned down in the very next attack, as referee Rory Hickey adjudged Noel O'Leary to have fouled Andy Moran on the edge of the square. Cillian O'Connor struck the free to open the Connacht champions' account, but they would have felt they should have been awarded the goal opportunity.
Donncha O'Connor and Paul Kerrigan nabbed the next two scores as Cork looked to put their foot on the throttle, and they threatened to run away with it when a Fintan Goold free and an expertly taken '45' from O'Connor stretched their lead to six points.
Another placed ball from the reliable Cillian O'Connor was backed up by a point from Kevin McLoughlin to help stem the tide for Mayo though, before they came roaring back into this game with a splendid goal from McLoughlin.
A fine fetch at centre-field by Aidan O'Shea saw the former minor star offload on landing to the wing-forward, who burned through his pace and ripped a hole in the Rebels' defence before lashing a devastating finish past Alan Quirke to make it a one-point game.
The score set Mayo alight, but the moment was extinguished in a flash when their struggling full-back line opened a gap which allowed Fiachra Lynch, who was a late replacement for Nicholas Murphy, to barge towards the square and fist across to where Kerrigan reached out and flicked the ball past Hennelly.
The whole-hearted Andy Moran fired over Mayo's response and when another Cillian O'Connor free flew between the posts it was clear that they were going nowhere.
Brilliant inter-change between Pearse O'Neill and Donncha O'Connor down the other end afforded Kerrigan all the time and space he needed to fist over and restore a three-point lead heading towards the halfway stage.
However, it was the Westerners that would have the final say at the end of the half as Moran earned another free for Cillian O'Connor to point and leave the scores at 2-6 to 1-6 at the break.
Enda Varley reopened Mayo's account a minute into the resumption, after Alan Dillon got himself dragged down on the right side.
A minute later Conor Counihan introduced All Star defender Graham Canty to the fray in place of Noel O'Leary, but it failed to sway the Mayo momentum as a Hennelly '45' levelled the sides for the first time on 40 minutes.
Cork were rocked, with nothing coming off for them up front, while Mayo's next score arrived via a slick pass from Cillian O'Connor inside to Dillon, who spilt the uprights to hand his team their first lead in the 42nd minute.
Counihan introduced Mark Collins for Lynch to try and improve their attacking options, with the abscense of the injured Daniel Goulding being badly felt at this stage, while James Horan sent on goal-merchant Jason Doherty, but the Cork substitute wasn't aided by some aimless passes inside.
A fisted point from John Miskella was sorely required by the Leesiders for their first score of the half 18 minutes in.
Keith Higgins kept Mayo's noses in front, before Collins released Goold for a one-on-one goal chance which the wing-forward fluffed badly wide.
In contrast, Mayo were exploiting every opportunity that came there way, and a minute shy of the hour Doherty looped over a rousing score to double his side's advantage heading into the final ten minutes.
Cork's response was absent as Mayo continued to rule centre-field and aim their passes inside to Doherty and O'Connor, with the latter sending over his fifth for a three-point lead.
A priceless free earned on the edge of the square by the excellent Moran was simply stroked over by O'Connor to ensure that Cork would need at least two scores to level in the last seven minutes, but with the Rebels having not scored for 13 minutes that looked unlikely.
Mayo were forced to defend their lead like dogs in the closing minutes as their opponents hunted for a goal, with Donal Vaughan pulling off a superb block to see Aidan Walsh's long-range shot for a '45', which was cleared away after dropping short from the boot of Donncha O'Connor.
Cork wouldn't be aided by the sending off of John Miskella for striking out at Doherty in injury-time, as they had already looked out numbered by the fired-up Mayo contingent which held out for a famous victory.
Mayo: R Hennelly (0-1, '45'); K Higgins (0-1), G Cafferkey, T Cunniffe; R Feeney, D Vaughan, T Mortimer; A O'Shea, S O'Shea; K McLoughlin (1-1), A Dillon (0-1), A Moran (0-1); E Varley (0-1, 1f), A Freeman, C O'Connor (0-6, 5f). Subs: J Doherty (0-1) for Varley, P Gardiner for Freeman, R McGarrity for S O'Shea, L Keegan for Feeney
Cork: A Quirke; E Cotter, M Shields, E Cadogan; N O'Leary, J Miskella (0-1), P Kissane; A O'Connor, A Walsh; F Goold (0-1, 1f), P Kelly, P O'Neill; D O'Connor (1-2, 1 pen, 1 '45'), F Lynch, P Kerrigan (1-2). Subs: G Canty for O'Leary, M Collins for Lynch, N Murphy for A O'Connor, D O'Sullivan for Goold
Ref: R Hickey (Clare)
Most Read Stories