FL4 round-up: Wexford and Leitrim impress
February 05, 2017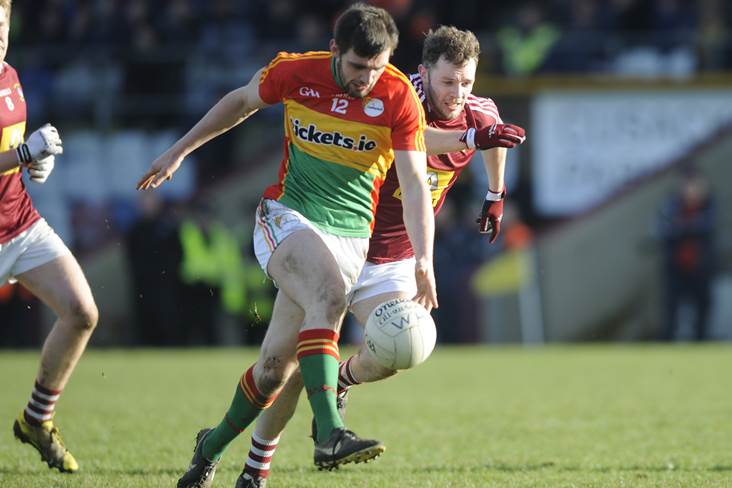 Carlow's Sean Murphy with Cormac Boyle of Westmeath during their Allianz FL clash at TEG Cusack Park.
Pic credit: Daniel Boyce.
Wexford and Leitrim opened their accounts with encouraging wins, while Westmeath and Carlow's draw was one of the games of the day.
The Model County had to fight to the end at Wexford Park against Limerick, where Danny Neville punched a Treaty County goal three minutes from the end to leave just one between them. But late points from Tiarnan Rossiter and PJ Banville (free) helped Seamus McEnaney's men to a 0-14 to 1-8 win.
Leitrim defeated Wicklow by double scores in Aughrim, 1-17 to 0-10, with Ryan O'Rourke registering the only goal of the game inside the opening minute.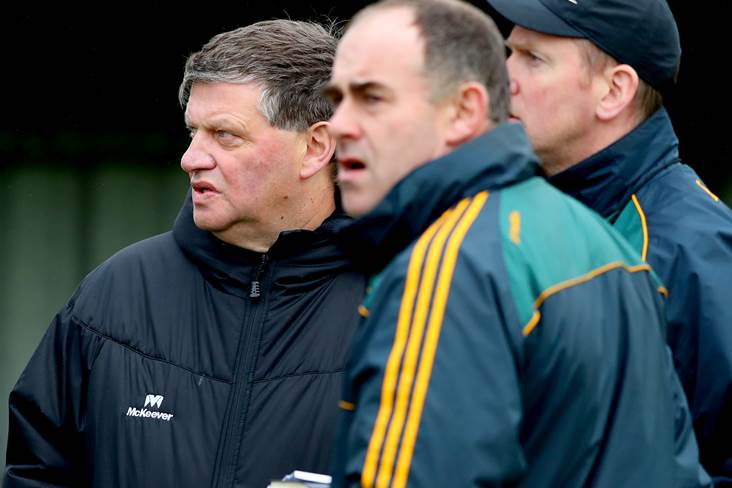 Two-time All-Ireland winning boss John O'Mahony is a selector with Leitrim.
Leinster rivals Westmeath and Carlow struck 2-10 each in a thrilling contest at Mullingar. Paul Broderick's goal had the underdogs ahead by 1-4 to 1-3 at the break and James Dolan's late major seemed to have won it for the Lake County only for Shane O'Neill to hand the Barrowsiders a deserved share of the spoils with a late, late equalising goal.
Elsewhere in the bottom flight, Waterford enjoyed a double scores victory over London at Ardmore, 2-16 to 1-8, with Paul Whyte bagging 1-5.
Wexford - S Roche (0-1'45); B Malone, J Rossiter, M Furlong; E Nolan (0-2), J Leacy, T Rossiter (0-1); D Waters, C Kehoe (0-1); K O'Grady, P Curtis, PJ Banville (0-5, 4f); C Lyng (0-3, 1f), J Stafford, J Tubritt (0-1). Subs: J Firman for P Curtis, N Rossiter for E Nolan.
Limerick - D O'Sullivan; D Daly, J McCarthy, S O'Dea; P White, I Corbett, C Fahy; D Ward, B Fanning; P Nash, G Collins (0-3, 2f), D Neville (1-1); S McSweeney, S O'Carroll (0-2), J Lee (0-2, 1f). Subs: G Noonan for D Daly (BC), B Donovan for P Nash, C Sheehan for D Ward, J Naughton for S McSweeney (BC), P Quinn for C Fahy, B Lynch for J Lee.
Referee - A Kissane.
**
Leitrim - P Farrelly; M Murphy, A Armstrong, F Carney; J Rooney, D Wrynn, O Madden; S Moran, M Plunkett (0-3, 2f); G Plunkett, D McGovern (0-1), R O'Rourke (1-4); E Mulligan (0-3, 2f), K Beirne (0-2), B Gallagher (0-1). Subs: D Moran (0-3) for K Beirne, C Canning for S Moran.
Wicklow - R Lambert; C Hyland, P Cunningham, J Snell; D Hayden, D Healy (0-1), M Cullen; R Finn (0-1), R O'Brien; D Boothman, S Kelly, M Kenny; T Kelly (0-3, 2f), S Furlong (0-3, 2f), J McGrath (0-1). Subs: E Murtagh for D Boothman, A McLoughlin (0-1) for M Kenny, M Lennon for J McGrath, J Crowe for M Cullen, P Cunningham for R Finn.
Referee - F Smyth.
**
Westmeath - D Bryan; J Gonoud, K Maguire, J Egan; J Dolan (1-0), F Boyle, S Corcoran; P Holloway (0-1), G Egan; C Boyle (0-1), C McCormack, D Lynch; L Loughlin, J Heslin (1-5, 0-3f), P Sharry (0-1). Subs: M McCallion for S Corcoran, D Glennon for L Loughlin, K Martin for C McCormack, A Gaughan (0-2) for C Boyle, D Corroon for J Egan, N Mulligan for A Gaughan (BC).
Carlow - C Kearney; C Crowley, D St Ledger, K Nolan; C Lawlor, J Murphy, G Kelly; B Murphy (0-1), E Ruth (0-1); A Kelly (0-1), D Foley (0-2f), S Murphy; D O'Brien, P Broderick (1-5, 1-0pen, 0-3f), S Redmond. Subs: D Moran for K Nolan, C Moran for J Murphy, S O'Neill (1-0) for D O'Brien, J Kenny for D Foley.
Referee - P Faloon.
**
Waterford - S Enright; B Looby (0-1), T O'Gorman, T O hUallachain; J McGrath, S Prendergast, R O Ceallaigh; T Prendergast, M Curry (0-1); M O'Halloran, P Whyte (1-5, 0-2f), C Murray (0-1); D Breathnach (0-2), J Veale, P Hurney (0-6, 3f). Subs: G Crotty (1-0) for M O'Halloran, F O Cuirrin for C Murray, F Galvin for R O Ceallaigh, L Lawlor for J Veale, S Dalton for S Prendergast, K Murphy for S Dalton (BC).
London - C Hallissey; C Carty, C O'Neill, C Coyne; J Branagan, P Butler, R Jones; A McDermott, J Gartlan; E Murray, M Gottsche, L Gavaghan (0-4); R Mason (1-4, 1-0pen, 0-3f), A Moyles, J Daly. Subs: K Hughes for A Moyles, M Carroll for J Gartlan, C Dunne for P Butler (BC), K Butler for J Daly.
Referee - B Tiernan.
Most Read Stories