Leitrim down to the bare bones
June 17, 2010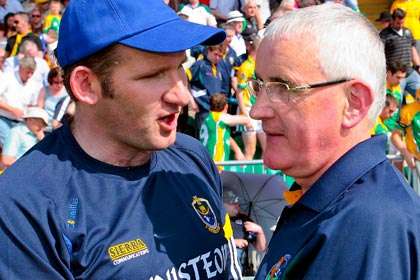 Leitrim manager Mickey Moran (right) with his Roscommon counterpart Fergal O'Donnell after the 2009 Connacht SFC 1st round clash at Carrick on Shannon.
Leitrim manager Mickey Moran is ruing the unavailability of 10 first-choice players ahead of Sunday's Connacht SFC semi-final against Roscommon.
Moran's squad had been decimated by injuries and emigration, while Mohill's Philly McGuinness died in tragic circumstances two months ago.
Key forwards Emlyn Mulligan (cruciate) and Colin Regan (double cruciate) have been sidelined since March, while Declan Maxwell has only recently returned to training after ankle surgery.
Midfielder Gary McCloskey is based in London, while Adrian O'Flynn, Barry McWeeney and Pat Gilmartin are also working overseas. In addition, corner back Michael McGuinness has been forced to retire due to a serious knee injury, while goalkeeper Noel Gill has also opted out.
"It will be the last minute before we decide the first 15," Moran told the Irish Sun.
"Declan Maxwell had surgery and he has only been doing light training. He has had an ongoing ankle problem for two or three years.
"We lost Colin, Declan and Emlyn to injury and we also lost Mickey McGuinness to a knee injury.
"We lost Pat Gilmartin, a new full back, who was a great find last year. Then Adrian O'Flynn, Barry McWeeney, Gary McCloskey - I think we lost six to work commitments and emigration. We had to start all over again.
"That is the nature of Leitrim and the geography of the place and employment opportunities."
Most Read Stories