Glanbia extend Kilkenny deal
February 15, 2013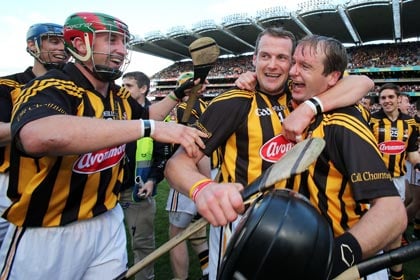 Kilkenny's Eoin Larkin, Jackie Tyrrell and JJ Delaney celebrate. INPHO
Glanbia will sponsor Kilkenny hurling for another three years, from 2013 until 2015 inclusive.
The new three-year sponsorship deal for Kilkenny's senior, intermediate, U21 and minor hurling teams was announced yesterday at a special function in Nowlan Park.
Kilkenny senior manager Brian Cody welcomed the extension, saying: "The players and management very much appreciate the generous sponsorship and support of Glanbia last year and over the previous years. I also want to thank Glanbia for providing our players with a range of nutritional dairy products over the season which plays an important part in our hurlers' diet. The team will do all in our power to reward them."
County Board chairman Ned Quinn added: "With the costs now involved in running county teams, it would be impossible for Kilkenny to prepare teams without the continued support and generous sponsorship of Glanbia. We have an excellent working relationship with them and I am delighted to have them on board again as sponsors for a new three year term and I look forward to our continued association with them over the next three years."
Brian Phelan, Glanbia Executive Director - Group Development and Global Cheese, commentated: "Glanbia are delighted to announce a continuation of our sponsorship with the Kilkenny hurlers who have been such outstanding ambassadors not alone for hurling but for sport in general. This sponsorship is an ideal fit for a food nutrition company like Glanbia and particularly for Ireland's No.1 consumer milk brand Avonmore."
Most Read Stories