Leinster JFC final: Lilywhites take the silverware
June 26, 2013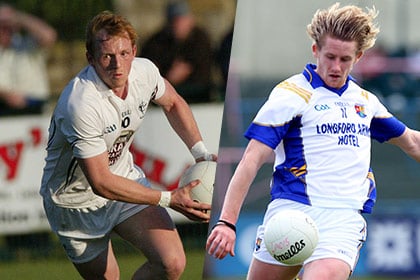 Kildare's Keith Cribben and Longford's Paddy Dowd
Kildare defeated Longford by 2-15 to 3-8 in an enjoyable provincial final at Newbridge.
The first half was nip and tuck and the Lilywhites managed to take the narrowest of leads into the break, 1-8 to 2-4.
Keith Cribbin opened the scoring with a Kildare point but Longford quickly replied through Mark Hughes, who then placed Brendan Devine for the game's opening goal in the sixth minute.
Cribbin replied before Cian Bolton fisted a goal and Hugh Mahon pointed to leave Kildare leading by 1-3 to 1-2 after 15 minutes.
After Cribbin had to retire through injury, Bolton added a Kildare brace but Paddy Dowd's goal from the penalty spot tied the scores up at 2-3 to 1-6.
And Kildare hit two of the last three points of the half to lead by one at the interval.
The second half was nip and tuck until a Cathal McNally goal put Kildare four points ahead, 2-10 to 2-6.
The winners kicked on and led by six points as we went into injury time but the midlanders plundered a late, late goal. Kildare refused to panic and Daniel Grehan kicked the insurance point.
Kildare - W Clynch; J O'Connor, W Burke, P Warren; D Duke, D Barker, C O'Shea; K Cribbin (0-2), S Darcy; H Mahon (0-2), S Hanafin (0-2), C Fagan; P Mahon (0-1), C Bolton (1-3), E Powderly. Subs: J Byrne (0-2) for Cribbin, C McNally (1-1) for Powderly, G Waters (0-1) for Duke, D Grehan (0-1) for Burke.
Longford - P Collum; R Keogh, B O'Farrell, B Devine (1-0); S Powell, D Bennett (1-0), M Duffy; J Kane, D Gallagher; D Mimnagh (0-1), P McKeon (0-2), S Doyle; M Hughes (0-2), P Dowd (1-1), M Mulvey (0-1). Subs: G Dennigan for Kane, B McKeon (0-1) for Mulvey, JP Reilly for Powell, J Martin for P McKeon.
REF - F Smyth.
Most Read Stories