Canning: I always feel pressure
October 01, 2015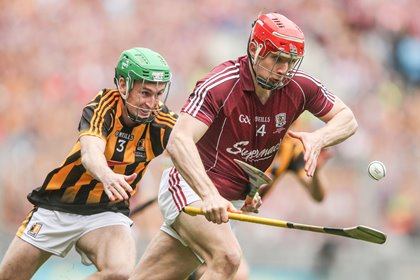 Kilkenny's Joey Holden and Joe Canning of Galway
©INPHO
Joe Canning admits he brought a lot of pressure on himself by making his mark at such a young age.
The underage prodigy burst onto the senior scene in 2009 when he scored 2-12 against Cork in what was only his third championship appearance. Since then, he has been Galway's talisman, a role he admits doesn't always sit comfortably with him.
"Probably the worst thing I ever did was play against Cork in one of my first games and score 2-12," Canning said on Newstalk last night.
"It seems that if I'm not scoring 2-12 every day, there's someone of my back.
"You always feel pressure. I always feel that there is pressure on me to perform. You saw that this year, when I hit eight or nine wides against Cork, you saw all the negativity of that and people said that I wasn't performing.
"Again, against Tipperary, I must have hit about six or seven wides and that was zoned in on. All of a sudden everyone was talking about that and my performance." 
Most Read Stories