SF Qualifier: Tribe tame Tipp in Tullamore
July 26, 2014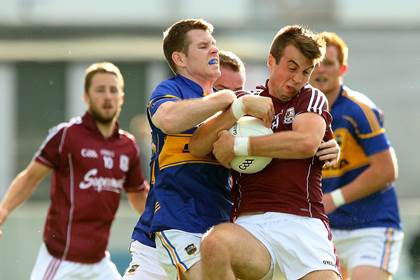 Action from the All-Ireland SFC Qualifiers. Galway's Paul Conroy and Ger Mulhair of Tipperary.
©INPHO/James Crombie.
It was more clear-cut than the final scoreline suggests at O'Connor Park , where Galway claimed a 4-17 to 4-12 victory over Tipperary tonight.
The result means that Tipperary's impressive summer has come to an end, while the winners will travel to Croke Park tomorrow week to take on Munster champions Kerry at the quarter-final stage of the 2014 All-Ireland SFC.
Galway led by 14 points at one stage but eased up and allowed the never-say-die Premier County to put some respectability on the scoreboard with a flurry of late goals. Worryingly for them as they face into the All-Ireland series, they have conceded 7-25 in their last two outings.
In front of 7,837 spectators, Alan Mulholland's men took a stranglehold on the match with four goals inside an astonishing four-minute spell either side of the interval. Danny Cummins and Michael Lundy hit the net in the 36th and 37th minutes to put the beaten Connacht finalists into an unassailable twelve-point lead.
Late first-half goals from Fiontan O Currain and Thomas Flynn in the 33rd minute and the third minute of stoppage time had propelled the winners into a commanding 2-7 to 0-7 half-time lead. Before the two big midfielders galloped through the Tipp defence to turn the match on its head, there was nothing between the teams, who were level four times inside the opening half-hour.
Tipperary had bossed long periods of the first 21 minutes or so but their inexperience showed and they weren't able to make their superiority tell on the scoreboard. The Tribesmen outscored their opponents by 2-3 to 0-1 in the last 14 minutes of the first half.
The first six points were shared, Danny Cummins' point for Galway making it 0-3 each after 15 minutes.
Galway captain and full forward Paul Conroy opened the scoring with a lovely left-footed strike in the sixth minute after the sides had registered two wides apiece in a tentative and nervy start.
Peter Acheson replied with a point at the end of a patient Premier County build-up but the Tribesmen went back in front when Michael Martin atoned for an earlier missed free by popping over a nice score from play. Acheson again equalised and Conor Sweeney edged the Tipp men ahead for the first time before Cummins replied.
Midfielder Steven O'Brien restored Tipperary's lead and Michael Lundy replied in the 19th minute after Barry Grogan had put two points between the teams for the first time.
Teenage midfielder Colin O'Riordan restored the Munster county's lead but Galway now took control of the game and drew level by the 30th minute with points from Conroy and Shane Walsh.
The westerners had come close to registering a goal prior to Walsh's point but Cummins' fisted effort came back off a post before being deflected behind for a '45'. Conroy dropped the '45' short and Walsh nonchalantly gathered the ball with a sublime first touch before posting it between the sticks.
The first Galway goal did arrive in the 33rd minute, however, when O Currain powered forward to plant a low shot to the back of the Tipp net. When Michael Quinlivan replied, Walsh slotted an injury-time free to leave three points between the teams.
It looked like the first half would end with three points separating the teams but, astonishingly, in the third minute of injury time, with the last kick before the short whistle, Galway No.9 Flynn broke through to supply his side's second major and double the differential at the break, 2-7 to 0-7.
Galway had the advantage of the breeze after the restart and they had stretched their lead to nine points within 50 seconds of the resumption when Cummins rifled a shot to the roof of the net. Straight away, Lundy followed up with a fourth Galway goal. And a point from Martin made it 4-8 to 0-7 after 38 minutes!
O'Riordan dropped over a Tipp point but back came Galway with points from Walsh and Martin before George Hannigan and Paul Varley traded points. Sweeney's converted free closed the gap to 13 points.
Tipp desperately needed a goal and Annacarty's Brian Fox - lucky to be still on the pitch after somehow avoiding a clear black card - duly obliged with a stunning shot that came back into play off the stanchion. But it failed to fool the eagle-eyed umpire who reached for his green flag. Walsh replied with a Galway point from play.
Sweeney tapped over a Tipp free and Peter Creedon's side lost O'Brien to a black card before substitute Sean Armstrong added to the winning tally with a fisted effort: 4-13 to 1-11 after 58 minutes.
Another substitute, Damien Comer, got his name on the scoresheet and Sweeney replied from a free with the match long since over as a contest.
Galway may already have had their minds on Kerry when Brian Mulvihill despatched a second Tipp goal; Conroy replied with a point. Amazingly, three minutes from the end, O'Riordan struck a third Tipperary major to close the gap to six.
Walsh (free) and Armstrong steadied Galway with a couple of late points and Sweeney smashed a last-minute penalty to the net as the losers once more closed within five.
Ultimately, those late Tipp goals only served to put some respectability on the scoreboard; in reality, this match was over as a contest by the 37th minute when Galway reeled off their third successive three-pointer and fourth of the night.
Galway - T Healy; D O'Neill, F Hanley, J Moore; G Bradshaw, G O'Donnell, P Varley (0-1); F O'Curraoin (1-0), T Flynn (1-0); M Lundy (1-1), S Walsh (0-5, 3f), J Kavanagh; M Martin (0-3), P Conroy (0-3), D Cummins (1-1). Subs: D Burke for G O'Donnell, S Armstrong (0-2) for D Cummins, A Varley for M Martin, J O'Brien for M Lundy, D Comer (0-1) for J Kavanagh, E Hoare for S Walsh.
Tipperary - P Fitzgerald; J Coghlan, P Codd, C McDonald; C O'Riordan (1-2), R Kiely, G Mulhair; S O'Brien (0-1), G Hannigan (0-1); M Quinlivan (0-1), B Fox (1-0), P Acheson (0-2); C Sweeney (1-4, 1-0pen, 0-4f), B Grogan (0-1), P Austin. Subs: I Fahey for G Mulhair, C Kennedy for M Quinlivan, A Campbell for B Grogan, H Coghlan for S O'Brien (BC), B Mulvihill (1-0) for I Fahey, S Flynn for P Austin.
Referee - B Cassidy.
Most Read Stories