Armstrong to miss Mayo clash
June 14, 2011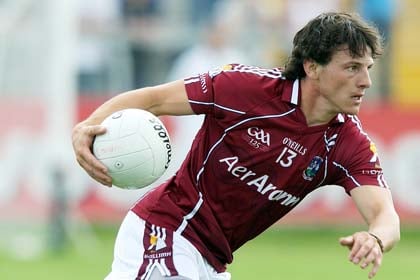 Galway's Sean Armstrong
Sean Armstrong will miss Galway's Connacht SFC semi-final against Mayo on Sunday week after suffering a recurrence of a hamstring injury in training last weekend.
The highly-rated forward only returned to action with his club Salthill/Knocknacarra last month after initially suffering the injury while playing for UL in the Sigerson Cup.
"It is very disappointing to have the hamstring go on me again," he said.
"Mentally it is very tough to deal with - I just seem to be having a bad year with it. I have even been doing yoga two or three times a week to strengthen them as well as extra core work.
"I was on the verge of rejoining the lads in training in the next few days, but I pushed myself a bit hard during rehab on Sunday. I was mad keen to get back in contention for the Mayo game, but in one of those final sprints, I felt it go.
"Hopefully the boys can do the business against Mayo so I will have some chance of targeting a Connacht final as a comeback."
Most Read Stories