Fennell transfer goes through
February 16, 2011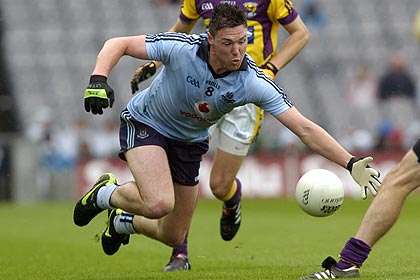 Dublin's Eamonn Fennell
The Dublin County Board has finally ratified the transfer of county midfielder Eamon Fennell to St Vincent's.
Fennell had been seeking a move from O'Toole's for the past four years but had found his path blocked repeatedly at County Board level.
And a year on from a ballot which refused the transfer by a wide margin, the county Board has granted the move.
The result - which went Fennell's way by what was described as "a sizeable majority" - rebuffed the recommendation of the County Board's management committee, which had sought to block the transfer.
Had the deal been denied, the 26-year-old would have faced inter-county limbo. Dubs manager Pat Gilroy stood by the player last year when he played no club football, but a repeat situation this time around would almost certainly have brought a premature end to his inter-county career.
County Board chairman Andy Kettle said, "It's quite a U-turn on last year when management recommended approval of the transfer but the board voted against it."
Most Read Stories