Castlebar made me miss Melbourne - Clarke
February 08, 2011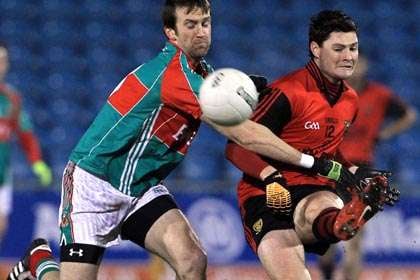 Down's Marty Clarke gets in his pass as Mayo's Ronan McGarrity attempts to block during the NFL round 1 clash at Castlebar.
Down star Marty Clarke admits last Saturday night's Allianz National Football League opener against Mayo made him yearn for the warmth of Australia.
Clarke returned from Melbourne 18 months ago having earned impressive reviews during his time with Collingwood.
He helped Down to a surprise run to the All-Ireland final last year, earning an All-Star in the process, but the winter months were dominated with speculation that he was keen to return Down Under.
And those rumours are sure to resurface after a dramatic media piece today, in which he blasted the warm-up and match fields at Castlebar's McHale Park, the Irish weather and the paltry crowd.
In an eye-opening Irish Daily Star column on Tuesday, he wrote, "As the rain pelted down and we entered a waterlogged back field to warm up in Castlebar, all thoughts began to zoom in on the job in hand.
"Be first to the ball. Simple football. Tackle with intensity. Don't let them settle. County football was back. Let's go. Up Down.
"Fast forward two hours and I heard the '[Do you miss] Australia' question. Suddenly I felt the cold pinch in the air. A bit of Melbourne sun would be nice.
"I gave away five free kicks in the tackle. Two resulted in Mayo points. They'd have been five commendable plays if I'd been out on the MCG. Castlebar was suddenly no MCG. In fact, I'd say it was one of the worst grounds I've ever played at - nothing but sand.
"Picking the ball up was a total nightmare. The ball simply didn't bounce. Once it hit the ground it stayed there. It was like playing on a beach. St Kilda beach!
"The PA system then announced a 'large' attendance, touching 6000, had just watched the game. Ten times that watched my first game of the 2009 season in Melbourne."
Most Read Stories