Championship Draws
July 12, 2013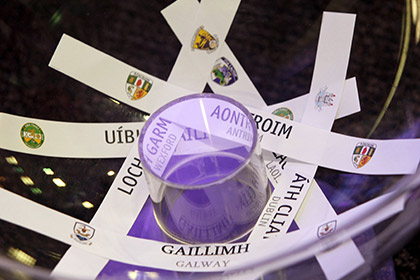 More big games to look foward to after the draws. INPHO
GAA Football All-Ireland Senior Championship Round 3 & 4 Draws
The GAA Football All Ireland Championship Round 3 & 4 draws will be broadcast live on Monday morning next on RTE Radio 1 (Morning Ireland) at 8.30am.
The Round 3 draw will include all the winners of Round 2 games in one bowl as follows;
Galway, Tyrone, Laois, Derry, Kildare/Louth, Leitrim/Armagh, Longford/Wexford and Cavan/Fermanagh. The first team out will have home advantage and these games will be played on July 20th.
Each of the Round 3 pairings will be drawn to play a beaten Provincial Finalist in Round 4. These teams will be in a seperate bowl and are Cork, Dublin/Meath, Mayo/London, Donegal/Monaghan and the Round 3 winners in a second bowl. These games will be played on the weekend of July 27th/28th and the venues will be arranged by the CCCC.
GAA Hurling All-Ireland Senior Championship Quarter Finals Draw
The draw for the All Ireland Hurling Quarter Finals will be as follows;
Bowl 1 - Galway, Cork or Limerick
Bowl 2 - Kilkenny/Waterford, Clare/Wexford.
These games will be played on July 29th and the venues will be arranged by the CCCC. As per rule, the draw shall be "subject to the avoidance of Repeat Pairings, where feasible".
Potential pairings that have already happened and cannot happen again;
Cork v Clare
Therefore if both Cork and Clare are in the draw, the quarter final pairings will be:
Cork v Kilkenny or Waterford
Galway v Clare.
Most Read Stories