Murphy: it's not about me
February 05, 2013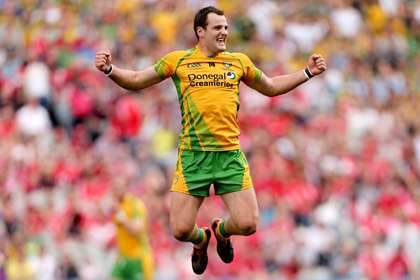 Donegal captain Michael Murphy celebrates after beating Cork ©INPHO
Donegal talisman Michael Murphy says football is all about the team performance.
The Glenties man was in irresistible form at Croke Park on Saturday night, slotting over nine points as the All-Ireland champions lost to Kildare. But he takes no personal satisfaction from his individual display:
"It's not about me," he tells The Irish News. "It's about the team's performance and that's what we'll be analysing.
"We will analyse our own individual performance, of course, but it's about getting up to a level where we - as a team - can compete over a whole 70 minutes.
"This game was encouraging but we need to build on it. We'll have a good platform to do that in the coming weeks. The games are coming thick and fast now and, as a player, that's exactly what you want."
Most Read Stories