Gallagher welcomes Croker opportunity
December 14, 2012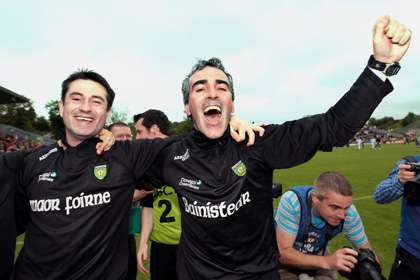 Rory Gallagher and Jim McGuinness celebrate
Rory Gallagher is glad Donegal's league opener against Kildare has been switched to Croke Park.
The match will form a Division One double-header with Dublin V Cork as part of the ongoing Spring Series on Saturday night, February 2nd, and Gallagher sees it as an ideal way to get the new season up and running:
"It's a great opportunity for us all," the Donegal assistant manager tells The Irish News. "I'd imagine Kildare will have a big support and - with no disrespect to the McKenna Cup - it being our first competitive game of the year there'll be a fair interest in it.
"It'll be good exposure for a lot of the lads and each time you play in Croke Park you get used to it a bit more.
"I'd imagine you'll also get one or two newer fellas and fellas without as much experience when it comes to Croke Park who'll get their chance that day too.
"But no matter where it's played, it's all about getting the result and you always want to start the season well.
"If we were to leave Croke Park with two points that night, we'd be very happy."
Most Read Stories