All-Ireland SFC semi-final: no separating Kerry and Mayo
August 20, 2017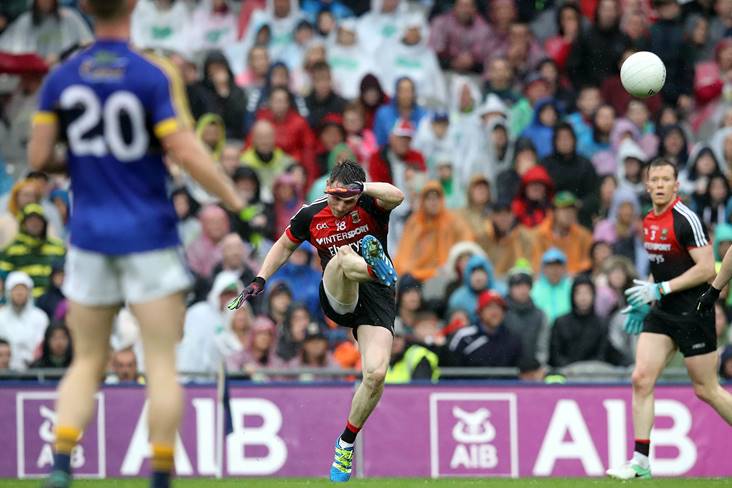 Mayo's Paddy Durcan kicks the equalising point to force a replay
Patrick Durcan's injury-time point ensured that an absorbing contest at Croke Park ended with the sides level, 2-14 apiece.
With 66,195 looking on as the players grappled with testing conditions in the gloom and doom of the Irish summer, Durcan came off the bench to salvage a replay for his side with a 74th-minute strike. The teams will return to HQ on Saturday for what will be Mayo's ninth outing in this year's competition.
The Connacht men will probably feel they should have won today, as Kerry were at sixes and sevens for long periods, especially in defence. Andy Moran made hay, spearing 1-5 and running Shane Enright ragged from start to finish. The sides were level nine times, so it was no surprise that this was how they finished up.
Kerry slotted the last four points of the opening period to go in level at the break, 1-8 to 2-5, after Mayo had carried the fight to them from the off, roaring four ahead when Colm Boyle struck his first-even championship major in the 20th minute before Cillian O'Connor and Moran - who supplied 1-3 in the first half - pointed.
On a dark and dreary afternoon in Dublin 3, the Croke Park floodlights were switched on at 3pm as incessant rain fell from an ominous sky in the two hours prior to throw-in. Nobody looked instantly recognisable in the gloom, with Mayo sporting black and red, the Kingdom in blue and the match officials in canary yellow.
Aidan O'Shea was surprisingly detailed with man-marking the influential Kieran Donaghy, while Lee Keegan started at centre forward for the underdogs.
O'Connor struck the post with an early free that he would have expected to convert but Mayo flew out of the traps on four minutes when veteran attacker Moran latched onto the breaking leather to drill a shot to the left corner of the Kerry net at the Hill 16 end. Jason Doherty followed up with a point and Paul Geaney's free had the Munster champions up and running in the ninth minute.
Following an exchange between James O'Donoghue (free) and Moran, Stephen O'Brien took a pass from Donaghy and gave David Clarke the eye before finishing excellently to the left of the net on 14 minutes.
Killian Young's point via the upright had the Kingdom ahead for the first time and O'Donoghue from distance doubled the difference, only for the dangerous Andy Moran to pull back a point and Boyle to exploit dreadful Kerry defending to plunder his side's second three-pointer.
O'Connor pointed to leave a goal between them and desperate last-ditch defending denied Mayo a third goal, with the ball eventually deflected over the bar for another Moran point. Geaney's second pointed free had the gap back to three with ten minutes left before the break, 2-5 to 1-5.
Donaghy and Geaney (two frees) claimed the last three points of a truly-helter skelter first half, where Mayo seemed to play most of the football but five Kerry frees and O'Brien's goal kept the Kingdom on terms.
Geaney and Moran traded the first two points of the second half and Vaughan got forward to restore Mayo's advantage before O'Connor bagged their third point inside two minutes 2-8 to 1-9! Parsons fisted a point following Moran's clever quick free but Kerry regained the lead with a Johnny Buckley goal from close range in the 46th minute (after Clarke denied David Moran) and a Geaney point.
When O'Brien fouled Keegan, O'Connor's 48th-minute free made it 2-10 apiece; five minutes later, O'Donoghue's free punished a Diarmuid O'Connor trip on Peter Crowley. Clarke thwarted half-time substitute Jack Barry and Moran tied the scores up for the sixth time with his fifth point 15 minutes from the end.
Geaney's excellent seventh point edged the Munster champions back in front but, with 13 minutes left, Parsons fired his second point at the end of a sweeping Mayo move 2-12 each. Cillian O'Connor nailed an exquisite lead point for Mayo from under the Cusack Stand; substitute Barry John Keane made an instant impression as he tied the scores up again with a left-footed finish in the 63rd minute.
Paul Murphy popped up with the lead point on 69 minutes after Donaghy skied a shot and Kerry turned down an opportunity to slow the game down, messing up a quick free and allowing their opponents to come at them again. Durcan had the last say for today but there'll be more of this contest in six days time.
Kerry - B Kelly; S Enright, M Griffin, K Young (0-1); P Crowley, T Morley, P Murphy (0-1); D Moran, A Maher; M Geaney, J Buckley (1-0), S O'Brien (1-0); P Geaney (0-7, 4f), K Donaghy (0-1), J O'Donoghue (0-3, 2f). Subs: J Savage for M Geaney, J Lyne for M Griffin, J Barry for A Maher, D O'Sullivan for J Buckley, B J Keane (0-1) for J O'Donoghue, B Sheehan for K Donaghy.
Mayo - D Clarke; C Barrett, A O'Shea, B Harrison; C Boyle (1-0), D Vaughan (0-1), K Higgins; S O'Shea, T Parsons (0-2); K McLoughlin, L Keegan, D O'Connor; C O'Connor (0-4, 1f), J Doherty (0-1), A Moran (1-5). Subs: P Durcan (0-1) for C Boyle, S Coen for S O'Shea, D Drake for D O'Connor, C Loftus for J Doherty.
Referee - M Deegan.
Most Read Stories