Ceremony to mark grave of Bloody Sunday victim
August 12, 2016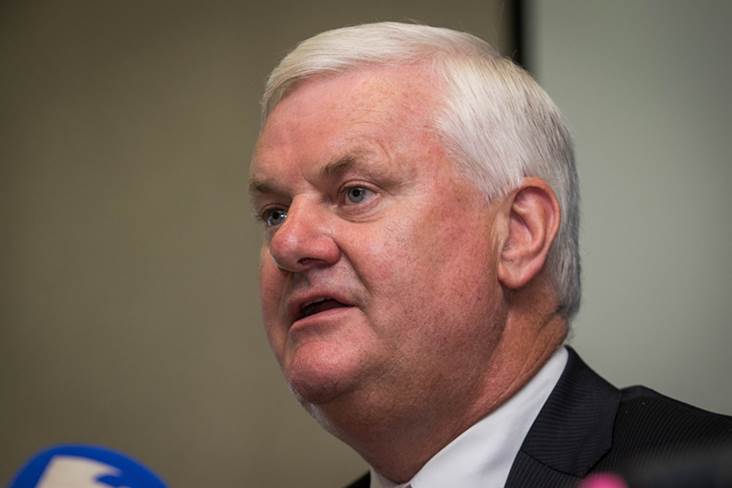 GAA President Aogán Ó Fearghail.
©INPHO/Ryan Byrne.
GAA President Aogán Ó Fearghail will attend a special ceremony in Glasnevin Cemetery in Dublin on Saturday to mark the unveiling of a headstone on the final resting place of Bloody Sunday victim, James Matthews.
James Matthews was aged 38 when he and 13 others were shot and killed by British Forces at Croke Park on November 21, 1920.
Until now James has been one of a number of those innocent victims who have been buried in unmarked graves.
A project involving the GAA, the Glasnevin Trust and families of Bloody Sunday victims has led to the final resting place of these unmarked graves being identified and plans are being put in place to appropriately remember those who died.
A similar ceremony was held in Glasnevin on the 95th anniversary of Bloody Sunday last November where a headstone was unveiled on the final resting place of another victim from that day, Jane Boyle.
The GAA President said: "Bloody Sunday is one of the seminal moments in the history of Croke Park, the GAA and indeed Irish history.
"It was a tragic and horrific event in which 14 people lost their lives and hundreds more attending the Dublin-Tipperary football match were injured.
"We in the GAA are delighted to be involved with the family of James Matthews to ensure that his memory and his final resting place are fittingly recognised."
Tomorrow's ceremony will be attended by more than 60 surviving members of the wider Matthews family. Among them will be James's daughter Nancy Dillon, who was born three months after her father was killed at Croke Park.
The Bloody Sunday Graves Project is indebted to the assistance of GAA journalist and author Michael Foley who wrote an award winning book on Bloody Sunday entitled The Bloodied Field.
The full list of the Croke Park dead from Bloody Sunday are:
Jane Boyle (26) Dublin
James Burke (44) Dublin
Daniel Carroll (30) Tipperary
Michael Feery (40) Dublin
Michael 'Mick' Hogan (24) Tipperary
Tom Hogan (19) Limerick
James Matthews (38) Dublin
Patrick O'Dowd (57) Dublin
Jerome O'Leary (10) Dublin
William Robinson (11) Dublin
Tom Ryan (27) Wexford
John William Scott (14) Dublin
James Teehan (26) Tipperary
Joe Traynor (21) Dublin 
Most Read Stories