O'Driscoll credits McNulty with reviving career
November 06, 2014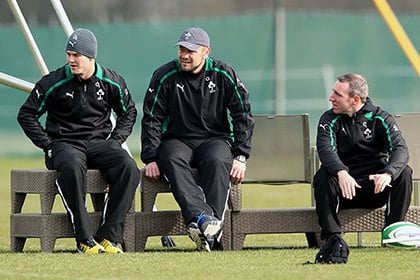 Ireland's Jonathan Sexton watches training alongside scrum coach Greg Feek and performance psychologist Enda McNulty. INPHO
Retired Irish rugby captain Brian O'Driscoll says he owes a lot to 2002 Armagh All-Ireland winner Enda McNulty.
In his autobiography 'The Test', O'Driscoll reveals how he had considered giving up the Ireland captaincy before Australia manager, Michael Cheika - who was in charge of Leinster at the time - set up a meeting with him and the renowned sports psychologist in December 2008.
O'Driscoll found McNulty's positivity to be infectious and went on to enjoy his best ever season which saw him skipper Ireland to their first Grand Slam in 61 years, captain the British & Irish Lions in South Africa and being shortlisted for the IRB Player of the Year award.
"I sat back with my arms folded, feet crossed, and I like Enda from minute one," the Irish sporting legend wrote.
"He talks to me like a peer and he has got my immediate respect because he knows what he takes to win. He's easy going and he hasn't got me on clock, but he hasn't come to make small talk either."
"He asks me where do I want to go in 2009 and I tell him that I want to be nominated for the IRB world Player of the Year and be Lions captain in South Africa.
"Enda told me that we need to have a bit of a plan here. He said go away and reflect on whether this can add value and if it doesn't then he won't waste my time."
Most Read Stories