JJ played through pain barrier
September 28, 2014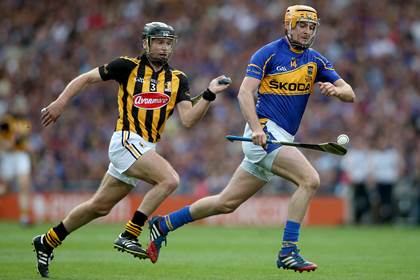 Tipperary's Seamus Callanan.
©INPHO
A dislocated finger didn't stop JJ Delaney from playing his part in Kilkenny's All-Ireland victory.
The long-serving Fenian's full back suffered the injury just before half-time, but returned for the second half to help the Cats to a 2-17 to 2-14 win over Tipperary.
"It [the finger] doesn't feel as bad now that you've won. These bumps and bruises feel a lot better now," he said.
Delaney took satisfaction from Kilkenny's improved defensive display after they coughed up 1-28 (1-24 from play) in the drawn game.
"We had a point to prove after the first day," he continued.
"We were lucky enough to get the draw. Usually if you play badly in an All-Ireland final you have to wait 12 months or two or three years. We were lucky that we only had to wait three weeks and we learned from the first day."
Meanwhile, Brian Cody has described Delaney's brilliant goal-saving hook on Seamus Callanan in the 18th minute as one of the game's defining moments.
"That was a magnificent piece of defending," the manager enthused.
"As we are so often told, our defenders are very, very slow and for JJ Delaney, who can't run, to get back and hook a player who in your opinion is a speed merchant but we work a lot on speed to keep the lads quick. You would want to know what you are writing about when you are writing those things. You would want to realise that it doesn't work like that."
Most Read Stories