22nd final for Kerry's famous Ó Sé clan
September 19, 2014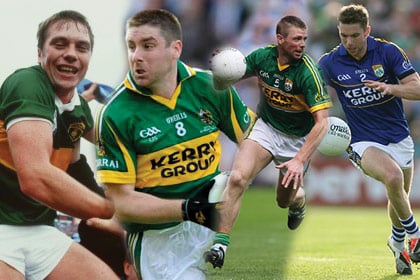 The Ó Sé's. Páidi, Darragh, Tomás and Marc.
It's remarkable to think that the Ó Sé family has had a direct involvement in each and every one of Kerry's 21 All-Ireland football final appearances since 1975.
The late, great Paidi Ó Sé played in 10 Sam Maguire deciders between 1975 and '86, winning eight of them. He also managed the Kingdom in four finals (including one replay) between 1997 and 2002, winning two of them.
Paidi was manager when his nephew Darragh won the first of his six Celtic Crosses in 1997. Since then, Darragh's brothers Tomas and Marc have won five and four All-Ireland medals respectively, with Marc aiming to add his fifth on Sunday at Donegal's expense.
Having regained his place in the Kingdom starting line-up, we have no doubt that Marc will do football's most decorated family proud.
The Ó Sé's and All-Ireland SFC finals
Páidí Ó Sé
App 10
Won 8
Lost 2
1975 v Dublin - right half back (won)
1976 v Dublin - right half back (lost)
1978 v Dublin - right half back (won)
1979 v Dublin - right half back (won)
1980 v Ros - right half back (won)
1981 v Offaly - right half back (won)
1982 v Offaly - right half back (lost)
1984 v Dublin - right corner back (won)
1985 v Dublin - right corner back (won)
1986 v Tyrone - right corner back (won)
As manager:
App 4
Won 2
Lost 1
Drew 1
1997 v Mayo - (won)
2000 v Galway - (drew)
2000 v Galway - (won)
2002 v Armagh - (lost)
Darragh Ó Sé
App 10
Won 6
Lost 3
Drew 1
1997 v Mayo - midfield (won)
2000 v Galway - midfield (drew)
2000 v Galway replay - midfield (won)
2002 v Armagh - midfield (lost)
2004 v Mayo - injured (won)
2005 v Tyrone - midfield (lost)
2006 v Mayo - midfield (won)
2007 v Cork - midfield (won)
2008 v Tyrone - midfield (lost)
2009 v Cork - midfield (won)
Tomás Ó Sé
App 10
Won 5
Lost 4
Drew 1
2000 v Galway - left half back (drew)
2000 v Galway replay - left half back (won)
2002 v Armagh - right half back (lost)
2004 v Mayo - left half back (won)
2005 v Tyrone - right half back (lost)
2006 v Mayo -  right half back (won)
2007 v Cork - right half back (won)
2008 v Tyrone - right half back (lost)
2009 v Cork - right half back (won)
2011 v Dublin - right half back (lost)
Marc Ó Sé
App 8 (before 2014)
Won 4
Lost 4
2002 v Armagh - right corner back (lost)
2004 v Mayo - right half back (won)
2005 v Tyrone - right corner back (lost)
2006 v Mayo -  right corner back (won)
2007 v Cork - left corner back (won)
2008 v Tyrone - right corner back (lost)
2009 v Cork - right corner back (won)
2011 v Dublin - full back (lost)
2014 v Donegal - right corner back
Most Read Stories