Limerick GAA Commercial manager flies out to Transplant Games
August 18, 2014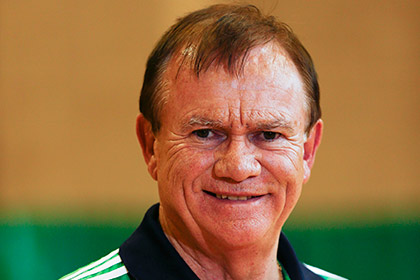 John Loftus
A Limerick man was one of 34 athletes who flew out to Krakow over the weekend to represent Ireland at the 8th European Transplant & Dialysis Sports Championships.
Speaking from Shannon airport prior to boarding a plane for Krakow with some other members of Transplant Team Ireland was John Loftus who said that he simply would not be competing in the European Championships were it not for organ donation.
Loftus, who is from Clarina, Co. Limerick and well known in GAA circles as the county's Commercial Manager, will be bidding for his fourth European title in-a-row in the 100m sprint when he competes in the category, as well as the 200m race, for 60-70 year olds.
"I received a kidney transplant in September 2000 after getting a rare virus called Good Pastures System in 1992. The upshot of this was that I had irreparable damage to my kidneys and it got progressively worse and by 1999 I was on dialysis and on a waiting list for a transplant.
"A year later, I was just home after doing a guard of honour at the funeral of a friend when I got the call to go to Dublin and the transplant was done the following morning.
"I am so fortunate because I was told when I got the virus that I would get seven to ten years out of my kidneys and I got seven. Thanks to organ donation, I am now going for my fourth European Transplant Games 100m in a row."
The popular Limerick man said that turning the corner back to health was something he will never forget and will be eternally grateful for the organ donation that gave him his life back.
"Getting your organ transplant and getting back on your feet was incredible. There was a moment when you realised that your health and energy are beginning to improve again," he continued.
"I just decided to do something to mark it and the Transplant Championships was it for me. I set a target of participating in the Games and here I am just about to head out as proud member of the 34 strong Irish team to the games in Krakow.
"I just wanted to demonstrate the joy and success of organ transplantation and what organ donors can do to give people a new beginning.
"I will be 67 on my next birthday and people who know about my involvement in the games ask me am I mad and I am, I guess. I'm mad about life, all the more so after my second chance. I would not have this chance were it not for organ donation and I would appeal to anyone out there to sign-up as an organ donor. It really is an amazing legacy to give."
The 8th European Transplant & Dialysis Games are being held in Krakow, Poland from 16th to 23rd August and will involve more than 500 participants form 24 countries throughout Europe. Every athlete at the Games will either have already receive a kidney, liver, heart, lung, pancreas or bone marrow transplant or are receiving dialysis treatment.
The Irish Kidney Association is responsible for the coordination and organistation of Transplant Team Ireland's participation in the European Transplant & Dialysis Sports Championships. For more information on the Championships and the Irish athletes visit www.transplantteamireland.ie or the Games website www.edtsc2014krakow.pl
For an organ donor card Freetext the word DONOR to 50050 or visit website www.ika.ie It is also possible to download an organ donor card on smartphones by searching for 'Donor ECard' at the iphone store or android market place. Your wishes to be an organ donor can also be included on the new format driving licence which is represented by Code 115.
Most Read Stories