Wexford supporter wanted to drown Nolan
July 10, 2014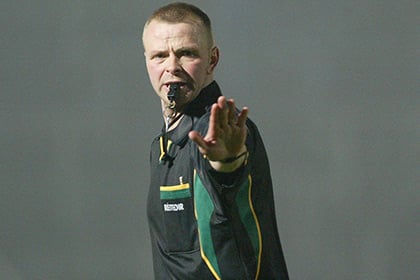 Wicklow referee Anthony Nolan
Wicklow referee Anthony Nolan has revealed that a disgruntled Wexford supporter suggested throwing him into the Slaney.
The Model County's animated fans were upset by Nolan's performance in last weekend's thrilling SF Qualifier clash with Laois at Wexford Park and the man in black says a supporter approached him after the final whistle and told him that "you and John Keenan should be tied together and f**ked in the Slaney."
Regarding the carefully-edited 'highlights' video of his performance which was posted on the Wexford GAA YouTube channel after the match, Nolan told The Wicklow People:
"It's totally wrong to be doing things like that but it's not the first time. It's been done before down there.
"I haven't watched the video. I wouldn't bother myself with things like that."
Most Read Stories