Horan: we would not insult any of our fans
May 12, 2014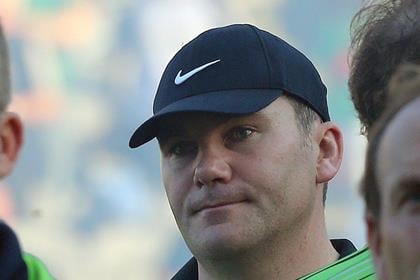 Mayo manager James Horan.
©INPHO/Lorraine O'Sullivan.
The Mayo footballers did not intentionally snub supporters on their recent trip to New York according to manager James Horan.
The Irish World, a newspaper serving the Irish communities across America, carried a front page story stating that Horan and his players left hundreds of the county's supporters disappointed when failing to show at an event in Dunwoodie Golf Club in Yonkers on the Friday night before their championship clash with New York.
An estimated 200 supporters forked out $50 each to attend the outing which was billed as a fundraiser for the Connacht champions but eyebrows were raised when the Mayo footballers, who were dining in an adjoining room following a training session in Gaelic Park, boarded their bus without coming into the room to meet those in attendance.
The Mayo manager expressed his disappointment at the reports when giving his version of events to the Western People newspaper and suggested that the county board may have a case to answer.
"There was a fundraiser organised by the county board on the Friday night," he explained.
"It had been discussed on numerous occasions and it was made very clear that the Mayo team would not go to any fundraiser before the match. This was made absolutely clear to the county board weeks in advance and I'm not sure how the confusion arose but the situation was very clear to us.
"We had a long flight; we had a training session that night and the players needed to get back to the hotel. We wouldn't have a fundraiser if we were playing Roscommon or Galway so why would we have one before we played New York?
"This was a championship match we were preparing for, so I'm no sure how the confusion arose but it's definitely something that needs to be discussed with Paddy McNicholas [county board chairman] because it was very clear on our part.
"We're very disappointed to hear that the team and management are said not to have fulfilled any of our duties in New York because nothing could be further from the truth.
"Under no circumstance would we want to insult any of our fans. If you look back at the actions of this team over the years, we have been very open to the fans all the time and it's something that we feel very strongly about, so this is very disappointing from our side.
"We're very disappointed that this was allowed to happen because it was very clear what the situation was long before we ever travelled to New York."
Most Read Stories