All Stars hurling game: Barry steals the show
November 30, 2013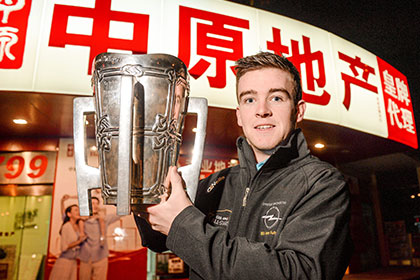 Clare star Tony Kelly with Liam McCarthy in Shanghai.
2012 All Stars 10-4
2013 All Stars 6-13
Hong Kong-based Mickey Barry came off the bench to score a hat-trick of second half goals as the 2012 All Stars defeated their 2013 counterparts in a typically high-scoring exhibition game at Shanghai rugby club in Pudong today.
Barry, who like Clare All-Ireland final replay hat-trick hero Shane O'Donnell hails from the Eire Og club in Ennis, had helped the 2012 selection to a seemingly unassailable lead before a late rally from the current All Stars left just a goal between the sides at the finish. Kilkenny manager Brian Cody took charge of the 2012 team, while the GAA's Director of Games Development and Research Pat Daly deputised for the absent Davy Fitzgerald on the 2013 sideline.
Joe Canning had an early goal for the 2012 team, but John Conlon hit back with a similar score for the 2013 side to give them a slender 1-9 to 2-4 lead at the break. But straight after the restart, Barry, Eoin Larkin and retired Waterford star John Mullane raised green flags for Brian Cody's men who were never headed thereafter.
2012 All Stars: D Burke (Galway); JJ Delaney (Kilkenny), P Murphy (Kilkenny); B Bugler (Clare), B Hogan (Kilkenny), M Cahill (Tipperary); I Tannian (Galway), D Collins (Galway); P Maher (Tipperary), C Donnellan (Galway), E Larkin (Kilkenny); J Mullane (Waterford), J Canning (Galway). Extras: M Barry and D McGeeney (half-time). Sub: S Lillis for McGeeney. Scorers: Barry (3-0), Maher (2-1), Larkin, Mullane (2-0 each), Canning (1-1), Tannian, Donnellan (0-1 each).
2013 All Stars: N Quaid (Limerick); R McCarthy (Limerick), P Kelly (Dublin), D McInerney (Clare); K Joyce (Kilkenny), L Rushe (Dublin), P Donnellan (Clare); C Galvin (Clare), T Kelly (Clare); P Browne (Limerick), C Lehane (Cork), P Horgan (Cork); J Conlon (Clare). Extras: J Trolan and G Hanniffy (half-time). Sub: A Foley for Trolan. Scorers: Lehane (1-5), Kelly (2-1), Horgan, Hanniffy (1-1 each), Conlon (1-0), McInerney (0-2), Joyce (free), Galvin, Browne (0-1 each)
Referee: James McGrath (Westmeath).
Most Read Stories