Ireland romp to victory
October 26, 2013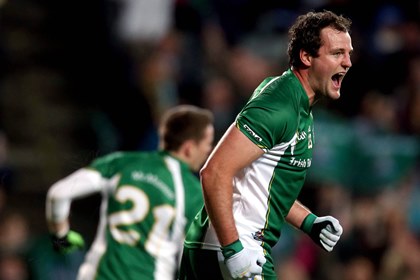 Michael Murphy celebrates.
©INPHO/Ryan Byrne
Ireland retained the Cormac McAnallen Cup following a 6-22-14 (116) to 2-7-4 (37) (Agg: 173-72) second test win over Australia at Croke Park this evening.
The game was all but over by the end of the first quarter as Ireland led 27-8 thanks to two goals from man of the match Conor McManus and Jack McCaffrey. Indeed the future of the entire series will be up for debate following this trouncing of the Aussies.
Before the game started there was a minutes silence held for the late Galway hurler Niall Donohue, who tragically passed away on Wednesday.
Ireland started with the same XV that started the first test, but Australia made wholesale changes to their line up as they set about chasing down Ireland's commanding 22-point lead. As was the case in the first test, the Aussies displayed a Haka-like dance just before throw in, but it must be said the New Zealanders pull it off better.
Zach Tuohy and Aaron Davey were involved in some pushing and shoving before the game started and then a few skirmishes broke out as the Aussies looked to lay down and early marker. However, it was Ireland that were first on the scoreboard as Lee Keegan scored an over from a close range free.
The first goal chance of the game went to Ireland, but Ross Munnelly was well tackled as he was about to kick. Then Ciaran Byrne missed a glorious opportunity of a goal, when his shot was saved by Ashley McGrath.
Australia equalised in the fourth minute when Sharrod Wellington hit an over, but this was cancelled out by Chrissy McKeigue less than a minute later. Ciaran Sheehan soon added another three-pointer as Ireland went into a 9-3 lead by the fifth minute.
Ger Harbrow had a behind soon after, but Ireland were making all the running and Aidan Walsh made a good mark but his effort was wide when he should have scored. Paul Flynn then had a behind to make it 10-4. A last ditch tackle on Flynn saved a certain goal in the 10th minute, but Ireland has picked up where they left off the previous week.
Eddie Betts made an excellent mark, but his shot was cleared off the line before Josh Hill had a behind. From the kick out, the ball broke to Conor McManus and the Monaghan forward made no mistake in dispatching the ball low to the net, 16-5 to Ireland; 12 minutes gone.
Keegan kicked a behind after a lengthy delay for treatment to Colm Boyle and then Betts who was the Aussies best forward had an over. At the other end Munnelly responded with an over to leave the score 20-8 by the 15th minute.
The second goal of the game came courtesy of a cracking finish by Jack McCaffrey who raced through and buried to the net. Already the signs were ominous for the visitors. Munnelly made it 27-8 with a behind by the 18th minute of the first quarter. And that was the last score of the opening 18 as Ireland led by 2-4-3 (27) to 0-2-2 (8).
The Aussies were unimpressive throughout the first quarter and they really needed to up the ante in the second period if they were to make any inroads into Ireland's lead. To their credit they had the first score of the second quarter when Matthew Stokes had a behind. Good play between Sheehan and Walsh resulted in the former kicking a fine over and Murphy followed this up with another over which made it 33-9.
Lewis Jetta hit an excellent over for Australia in the seventh minute of the second quarter, but the needed a few goals to really get back into the match even at this early stage. Jake Neade had a behind as the Aussies hit two scores in a row, but Munnelly responded with a three-pointer for Ireland as does Davey for Oz. 39-16 with eight minutes in the first quarter left.
Ciaran Kilkenny was on the end of a great move as Munnelly found Sean Cavanagh, who in turned used his soccer skills to find the Dublin star who dispatched the ball to the net to make it 45-16.
McManus added an over before Keegan did likewise after a good run by the Mayo man. A John Doyle behind left the score at 52-16 as the clocked ticked down to half time. The last score of the half was a McBrearty behind as the Aussies strolled off looking dejected. Ireland 3-10-5 (53) Australia 0-4-4 (16): Agg 110-51.
The opening scores of the third quarter went to Ireland as Walsh and McManus kicked behinds. Murphy then made an outstanding mark and the Ireland fired an over as the home side's domination continued with Colm Begley kicking a behind before McManus hit another over, 62-16 after nine minutes of the third quarter as the Aussies still sought their first score of the quarter.
Sheehan hit his third over from some distance. Then Australia finally got off the mark when Paddy O'Rourke was done for holding on to the ball as Lewis Jetta kicked a behind to make it 65-19. But almost straight away, Ireland swept down the field and McManus was on the end of a Murphy pass to fist the ball into the net, 71-19.
The scores kept coming as Murphy had an over. Australia's resistance was all but gone at this stage as they barely threatened the Ireland goal, although Lindsay Thomas did hit an over for their first score of the third quarter in the 15 minute.
McManus added three points after a good mark and kick, and John Doyle sent over a behind shortly after to put 56 points between the teams on the night, 78-22. Josh Hill kicks an over as the hooter sounds at the end of the third quarter to leave the score 4-15-9 (78) to 0-7-4 (25) in Ireland's favour.
The rout continued in the fourth quarter as McBrearty kicked an over. Paul Flynn then got in on the act with and over and second later McBrearty buried the ball into the back of the net, 90-25. A Keegan behind was cancelled out by a Betts goal to reduce the gap on the night to 60 points!
Munnelly and McBrearty combined for the former to kick an over. But, the Aussies battled bravely and Neade got their second goal of the night when he finished well past O'Rourke with nine minutes of the game left. Cavanagh (2) and Kilkenny kicked overs to make it 101-37 before Murphy added three points after another good mark.
A McManus over, Keegan behind, Shields behind, Conroy goal and behind, closed out the scoring as Ireland romped to a 116 to 37 victory.
Ireland scorers: Ross Munnelly 0-4-1 (13); Conor McManus 2-4-1 (25); Jack McCaffrey 1-0-0 (6); Ciaran Kilkenny 1-1-0 (9); Ciaran Sheehan 0-3-0 (9); Lee Keegan 0-2-2 (8); Paul Flynn 0-1-2 (5); Chrissy McKaigue 0-1-0 (3); Johnny Doyle 0-0-2 (2); Paddy McBrearty 1-1-1 (10) Aidan Walsh 0-0-1 (1) M Murphy 0-4-0 (12), Colm Begley 0-0-1 (1), Paul Flynn 0-1-0 (3), Sean Cavanagh 0-2-0 (6), Michael Shields 0-0-1 (1), Paul Conroy 1-0-0 (6).
Australia scorers: Wellington 0-1-0, Hill 0-0-1, Harbrow 0-0-1, Betts 1-1-0, Stokes 0-0-1, Davey 0-1-0, Jetta 0-2-0, Neade 1-0-1, Thomas 0-1-0, Hill 0-1-0
Ireland: Paddy O'Rourke, Colm Begley, Colm Boyle, Ciaran Byrne, Sean Cavanagh, Paul Conroy, John Doyle, Paul Flynn, Lee Keegan, Ciaran Kilkenny, Paddy McBrearty, Jack McCaffrey, Neil McGee, Chrissy McKaigue, Ciaran McKeever, Kevin McLoughlin, Conor McManus, Ross Munnelly, Michael Murphy, Ciaran Sheehan, Michael Shields, Zach Tuohy, Aidan Walsh.
Australia: Ashley McGrath, Steven Motlop, Jarrod Harbrow, Leroy Jetta, Daniel Wells, Lindsay Thomas, Christopher Yarran, Tony Armstrong, Lewis Jetta, Eddie Betts, Sharrod Wellingham, Shaun Edwards, Mathew Stokes, Cameron Ellis-Yolmen, Alwyn Davey, Jake Neade, Joshua Hill, Dominic Barry, Aaron Davey, Nathan Lovett-Murray.
Most Read Stories