Harte questions Dublin - Kerry hysteria
September 06, 2013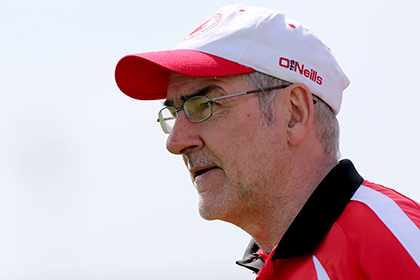 Tyrone manager Mickey Harte. INPHO
Mickey Harte believes experts analysing the Dublin-Kerry match found what they were looking for.
Last weekend's thrilling All-Ireland semi-final has come in for nothing but glowing praise in all quarters of the media but Harte says it has been judged by different standards than many of the other championship matches played this year:
"The chorus which rolled forth was that this game had everything," the Tyrone boss writes in his weekly column in The Irish News. "Ironically, lots of games have a bit of everything, but the focus is regularly placed on the negative aspects of the game. Not this time.
"The 'C' word got minimal airing from some and none from others. No particular concern was expressed about the fact that Colm Cooper was foot tripped and consequently deprived of an excellent goal chance after 55 minutes.
"Neither was there any focus on the fact that the perpetrator would have picked up a second yellow card, the Kingdom would have reclaimed the lead by two points and the eventual winners would have been down to 14 men for the last vital 15 minutes.
"It didn't seem to matter a jot that the yellow card count went into double figures.
"For sure, this was a great contest, but was it that good? Or is it as much to do with the 'experts' focusing primarily on what they wanted to see and engaging their blind spot for that which was distasteful? Another prime example of 'you get more of what you look for'?
"Did the experts not notice that a prerequisite for such a scorefest is some rather juvenile and naive defending? Perhaps, in their opinion, there is no skill in quality defending."
Most Read Stories