Football top scorers: O'Connor injury a Dunne deal?
August 27, 2013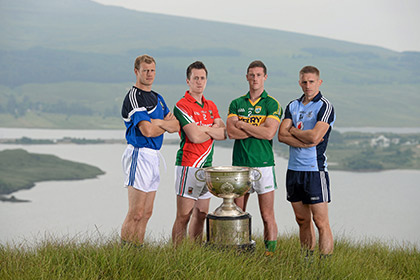 From left, Owen Lennon, Monaghan, Cillian O'Connor, Mayo, Jonathan Lyne, Kerry, and Eoghan O'Gara, Dublin, are photographed in front of Dunlewy Lake at the official launch of the 2013 GAA Football Championship All-Ireland Series.
Cillian O'Connor's early departure last Sunday with a potential season ending shoulder injury means that it is now unlikely that Cavan's Martin Dunne will be overtaken in the race to be crowned top scorer in football championship 2013.
The Mayo man was odds on favourite to be the top scorer as he trailed Dunne by five points before throw in against Tyrone in the All-Ireland semi-final. Injury intervened and with O'Connor unlikely to play in the All-Ireland final, it is difficult to see anyone surpass Dunne's total of 1-33.
The Cavan man is still the top scorer from play with 1-16, a point ahead of, you guessed it, O'Connor.
O'Connor is out on his own as the top goalscorer with six. Armagh's Jamie Clarke is next with four majors to his name while Leitrim's Emyln Mulligan, Wexford's PJ Banville and Armagh's Eugene McVerry are on three goals apiece.
We thought it would be some feat if Mulligan's individual match tally of 3-7 (v New York) was beaten before the end of the summer, but O'Connor has come came close with 3-3 and 3-4 in his last two outings. Four players have managed nine points in a game so far - Cavan's Martin Dunne (0-9 v Armagh), Meath's Mickey Newman (0-9 v Wexford), Armagh's Jamie Clarke (2-3 v Wicklow) and Galway's Michael Meehan (1-6 v Cork).
The highest per game record, is shared by Longford's Sean McCormack and O'Connor, who average 8.0 points per game.
Overall - championship football top scorer
Martin Dunne, Cavan 1-33 (36) 5.14 average per game
Daniel Goulding, Cork 1-29 (32) 6.4 avg
Cillian O'Connor, Mayo 6-14 (32) 8.0 avg
Mickey Newman, Meath 1.27 (30) 7.5 avg
Sean Cavanagh, Tyrone 0-29 (29) 4.14 avg
Michael Meehan, Galway 2-22 (28) 5.6 avg
Darren McCurry, Tyrone 0-28 (28) 4.0 avg
Colm McFadden, Donegal 2-18 (24) 4.8 avg
Lorcan Mulvey, London 2-18 (24) 4.0 avg
Sean McCormack, Longford 0-24 (24) 8.0 avg
From play - championship football top scorer
Martin Dunne, Cavan 1-16 (19) 2.71 avg
Cillian O'Connor, Mayo 5-3 (18) 4.5 avg
Shane Lennon, Louth 2-10 (16) 4.0 avg
Jamie Clarke, Armagh 3-6 (15) 3.75 avg
Eugene McVerry, Armagh 3-4 (13) 3.25 avg
Colm McFadden, Donegal 2-6 (12) 2.4 avg
Lorcan Mulvey, London 2-6 (12) 2.0 avg
Eamon Wallace, Meath 1-9 (12) 3.0 avg
Matthew Donnelly, Tyrone 1-9 (12) 1.5 avg
Michael Meehan, Galway 1-8 (11) 2.2 avg
Daniel Goulding, Cork 1-8 (11) 2.2
Emyln Mulligan, Leitrim 3-2 (11) 3.66 avg
Ciaran Lyng, Wexford 1-8 (11) 2.75 avg
James O'Donoghue, Kerry 1-8 (11) 3.66 avg
PJ Banville, Wexford 3-2 (11) 3.66 avg
Most Read Stories