Death of Kilkenny Great Pat Delaney
August 19, 2013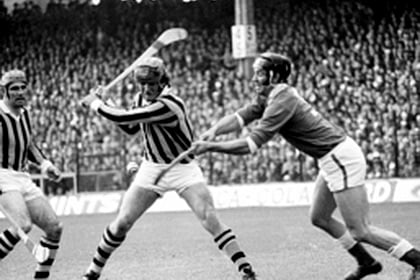 Pat Delaney strikes for Kilkenny against Limerick
The death has occurred of Kilkenny hurling legend Pat Delaney after a long illness.
The Fenian's clubman gave hurling the famous 'Delaney Bounce', which involves tapping the ball off the ground while charging through a ruck of opponents, during an illustrious career that yielded four All-Ireland and six Leinster SHC medals. In addition, he won two All Stars, one National League medal and five Kilkenny SHC medals with his beloved Fenian's in Johnstown.
The father of PJ Delaney, who scored the winning goal for Kilkenny in their 1993 All-Ireland final victory over Galway, and an uncle of current Kilkenny star JJ, Pat was one of the best centre forwards of his generation. He came to prominence in 1969 when he collected his first Leinster and All-Ireland medals.
His other Celtic Crosses were won in 1972, '74 and '75. Pat retired from inter-county hurling in 1977, but continued playing at club level until 1981.
Ar dheis De go raibh a anam.
The Man from Johnstown

written by the late Raymond Smith in the 'Our Games' annual of 1975
He came late on the inter-county scene as hurlers go - but in the five short years that his name has been really known to the public, he has made such an imprint that now he goes into my book as one of the most dynamic centre-forwards I have seen.
Kilkenny's Paddy Delaney was 27 when he won his first All-Ireland senior medal in 1969, and the 1974 season saw him win his third (after he had taken a second in 1972). Nowadays, I often ponder to myself what would Kilkenny have achieved if Delaney had been there at centre-forward between Tom Walsh and Eddie Keher in the 1959-'63 era when quicksilver Billy Dwyer was at full-forward.
The years he has cause to regret are the years he languished in junior grade, before Johnstown got together a fine team that was to become the dominant force in Kilkenny club hurling in the first seasons of the 'Seventies.
"I was as green as a leek," he will tell you as he looks back now on the first games he played in senior grade, and he talks about a match against Wexford that would have been won if he had had the confidence that was to come later. But then his arrival was like that of Tony Reddan 20 years earlier for Tipperary. Reddan had been starring in club hurling in his native Galway in the early 'Forties and no one knew anything about him - because the man who kept goal for the Westerners was Seanie Duggan and Duggan overshadowed everyone else by his brilliance, as Kilkenny's OIlie Walsh was to keep Noel Skehan in the subs list for so long in a later era.
I remember the way Delaney made me sit up and take notice the first day I saw him in action for Kilkenny in a championship match. I remember writing after the Leinster Final of 1969 that "this man can win an All-Ireland for Kilkenny some day." He helped win one sooner than I had imagined.
Etched in my mind is the manner in which Eddie Keher and himself opened up against Cork in the first ten minutes of the second half of the 1969 All-Ireland, the way Delaney ranged in under the crossbar, stretching the Cork defence to the limit. He was coming right into his own when he was felled by a stroke on the head that necessitated six external and twelve internal stitches. Mick Lanigan, the trainer, who was one of the first on the spot that day and saw the gaping scalp wound, has told me since, that his first reaction was that Delaney would never play again.
It is history now how, as he was being carried off on a stretcher, something seemed to hit Kilkenny deep down, and they became a side transformed as the captain, Eddie Keher, waving his hand by his side low down gave the signal to his men to play it cool, to lie in close. They decided that they would answer what had happened with class, with pure hurling skill, with legitimate steel and with all the experience and craft they could command at that moment. The team that two years previously - Kilkenny's finest in the 'Sixties - had overcome Tipperary and written the swan song for such veterans as Tony Wall, John Doyle and Kieran Carey, was in full cry again. Staging one of the finest rallies in their history, the Noresiders, after being seven points down at one stage in the first half, went on to win by a decisive margin of six points.
Delaney, like the iron man he is, was to be back, and the only concession he made to that injury was that subsequently he invariably wore a helmet.
In the 1971 All-Ireland he was centre-forward on Mick Roche and it is significant that he acknowledges that Roche was the finest centre-back he faced in his inter-county career.
It was in 1972 that he reached the zenith of his career and his display in the All-Ireland Final of that year is still cherished by the banks of the Nore,
Now, of course, Kieran Purcell was inside him at full-forward, and Eddie Keher was on Purcell's left, and I am convinced that in years to come men will talk about their contribution to Kilkenny's hurling, as footballing men talk today about what the deadly trio of Sean O'Neill, Jim McCartan and Paddy Doherty meant to Down in 1960-'61.
The power and strength of Delaney and Purcell - "I consider Purcell a great forward," said Pat Henderson - made the vital openings in play for Eddie Keher and brought the close-in frees also that a deadly marksman like Keher could utilise to the full. It was only when injury put Keher on the sideline in 1973 and an operation kept Purcell out of the actual fifteen (even though he bravely played as only a shadow of his true self in the second half) that we realised to the full that like "The Three Musketeers," it was a case of one for all and all for one. Delaney couldn't beat Limerick on his own, and Limerick knew beforehand that he was the one man they had to curb to ensure victory. But the return of Purcell and Keher and the restoration of this trio in attack changed the picture entirely in the 1974 All-Ireland.
Paddy Delaney is convinced that Kilkenny should have been going for a three-timer or a four-timer in 1974 - "but then we won two All-lrelands in one when we avenged the 1973 defeat in 1974," he says.
No victory could have given him more satisfaction than that one. It was a victory not only for Kilkenny but an even more significant achievement for the Fenians of Johnstown). Pat Henderson has been captain in 1971. Defeat. And Delaney himself had been captain in 1973. Again defeat.
"We just could not afford to have a Johnstown man failing as captain at the third attempt," said Paddy - and he confided that Pat Henderson and himself were willing to "die in the attempt" to ensure that Nicky Orr brought back the Cup to the county. Not surprisingly, Henderson had one of his finest hours at centre-back, Delaney too served the colours proudly, and Nicky Orr was an inspiration as captain on the day.
I was in Johnstown the evening they brought back the Liam McCarthy Cup - an evening when I learned that the honour of the little village can still be the spur to fame and glory. Orr holding the Cup high, Delaney and Henderson beside him, as the Piper's Band played them in, a bonfire blazing in the centre of the village.
And I talked again to Paddy Delaney against the background of the beating spoons as the celebrations went on into the early hours.
A man of the land as John Doyle always was - and Nicky Orr is. A man who in this era when hurling, under the new rules, tends to become more open with each passing day, conjures up memories of Mick Mackey with the power of his shoulder and leg muscles, bursting through the centre. A player out of his time, as it were, but yet making the blood tingle in the veins because there are few like him - Kieran Purcell apart perhaps - around today.
He farms near Rathdowney and loves the open air life that farming offers to the lucky ones away from the smoke and the press and tensions of the cities. He talked about retirement and wanting to get out on top. He had won every honour except, surprisingly enough, a League medal, and that could come in the Spring, judged by the manner in which All-Ireland champions, Kilkenny kept their form after the Final.
Most Read Stories