O'Sullivan a fan of modern game
July 04, 2013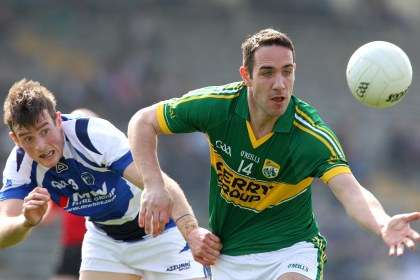 Kerry's Declan O'Sullivan out ahead of Kieran Lillis of Laois ©INPHO/Lorraine O'Sullivan
Kerry's Declan O'Sullivan is a fan of the modern game which has drawn so much criticism.
Pundits and supporters alike have blasted the negative tactics used by county teams in recent years as the game has become a lot more defensive.
Nonetheless, despite being one of the most skilful players in the game, O'Sullivan feels that the modern game brings out the true character of a player.
Speaking to the Kerryman he said: "I am kind of enjoying the way football is. I know people are giving out that it is defensive, but look every team has to be defensive.
"When you don't have the ball you have to try and get it back and have to try to stop the other team from scoring and that's the way it always was.
"To me, with Gaelic football there is a certain amount of talent, but anytime I talk to young fellas I say that talent gets you so far, but the most important attribute any player could have is attitude and work rate, and that's the way it always was."
Most Read Stories