Gavin: break is too long
June 02, 2013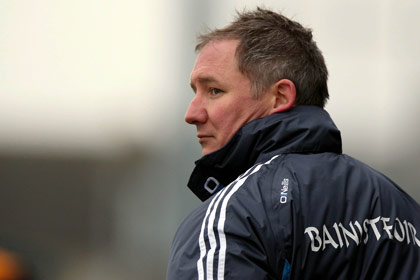 Dublin football manager Jim Gavin. INPHO
Jim Gavin believes the All-Ireland SFC is too drawn out.
After easily accounting for Westmeath in their Leinster SFC opener last night, Dublin face a four-week layoff until June 30 when they will face Kildare for a place in the provincial final.
"It (the gap) is way too long. I'll be sending players back for two rounds of the adult football leagues with the clubs so it's way too long," the Dublin manager explained.
"I can't speak for the fixture list, that's a Leinster Council issue but even for the supporters and even for Westmeath, I don't know when they go back in the pot, but certainly for teams that win four weeks is way too long.
"Just the momentum that you want to generate, you prepare very diligently for the game and to keep that up for a game in four weeks is quite a long stretch. So that is something that should be really looked at. The whole season is too long."
Gavin says there is a case for starting the inter-county season a few weeks later.
"I know there are issues for coverage of GAA games, that we want to keep our games in the headlines, but we could start later. Why do we start the National Leagues when we have the Sigerson games on?
"Having experienced the U21s there is always a conflict there between senior set-ups and 21 set-ups. Let the Sigerson and let 21 competition take place and then everybody can kick off.
"And let the clubs take place - it is a fantastic competition the club competition now and it really has a strong place in our calendar. Let all that take place and then we can have a look at kicking off with the leagues in April and move from there."
Most Read Stories