Motion to give Munster cups names shot down
May 16, 2013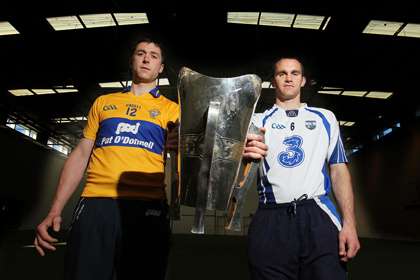 Clare's Pat Donnellan and Michael Walsh of Waterford with the Munster SHC Cup
The Munster senior hurling and football championship cups will remain nameless after a Limerick motion to have the hurling cup named after the legendary Mick Mackey was rejected.
Speaking to the Irish Examiner, Munster Council chairman Robert Frost explained: "The motion was brought forward by Limerick, and it was discussed first by the management and finance committee.
"They decided that it would be better off to leave well enough alone and that's a view shared by me and some members of the Council. We have cups that have names on them, but they were presented by families or organisations and then named after them.
"But the two trophies that we have for the senior hurling and senior football were bought and presented by the Munster Council. At the time, there were no names applied to them and we felt that it would be opening up a can of worms to change that now."
Frost added that the Munster Council would have risked upsetting hurling followers in other counties if they had given the Limerick motion the green light.
"I have nothing personal against Mick Mackey," he continued.
"He was a fantastic hurler and a member of the Munster Council, but if you go down that road, you'd have people saying that other players might be deserving of it. Then, there'd be suggestions that, if the hurling cup was to be named, that the football cup should be too, so it was felt that the best way was to keep things as they are."
Most Read Stories