Awards for O'Neill and Ryan
May 13, 2013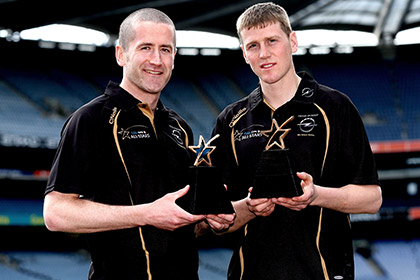 Tyrone's Stephen O'Neill and Kilkenny's Lester Ryan with their GAA/GPA Player of the League Award Sponsored by Opel. INPHO
Stephen O'Neill and Lester Ryan win GAA GPA Player of the League Awards Sponsored by Opel
The GAA/GPA All-Stars sponsored by Opel are delighted to announce Stephen O'Neill (Tyrone) and Lester Ryan (Kilkenny) as the Players of the League in football and hurling respectively, marking their outstanding performances throughout the spring campaigns. Both selections, chosen by the inter-county playing body, reflect the consistently high standards set by both counties.
O'Neill was one of the shining lights in Tyrone's march to the league final, rolling back the years with a number of excellent displays throughout the county's league campaign. The mercurial forward is back to his best, peaking in the semi-final as he clinched Tyrone's 2-15 to 2-11 win over Kildare, with two sensational points.
Newcomer Ryan was a stand-out performer for eventual league winners Kilkenny at midfield, scoring three points in their semi-final destruction of Galway, and producing a superb display in the final against Tipp. His consistent contribution marks him as one to watch for the defending All-Ireland champions in the weeks and months ahead.
Commenting on the announcement, Uachtarán Chumann Lúthchleas Gael, Liam Ó Néill said, "I'm delighted to pass on my congratulations to two of the best players our leagues threw up this year, and it's no surprise that Lester Ryan and Stephen O'Neill are the two being honoured here today."
"Lester underlined his promise over the course of the competition with a string of performances that bode well for Kilkenny's upcoming defence of their All-Ireland crown. Stephen was once again majestic during Tyrone's run to the league final and I look forward to seeing him in action against Donegal in the coming weeks. Being acknowledged by your peers is very special and I thank Opel who partner us in acknowledging excellence in both football and hurling."
Dessie Farrell, CEO of the Gaelic Players Association added: "Congratulations to Stephen and Lester in being recognised by their peers for their contribution during the Leagues. Representing both ends of the spectrum in terms of experience their performances reflect the importance and standard of the competition. We're delighted that these awards now kick-start the championships and we look forward with great anticipation to the months ahead. Thanks to all the players and to Opel for their great support of our games and our players. "
Commenting on the announcement, Dave Sheeran, Managing Director, Opel Ireland, said, "We are delighted to continue our support of the Gaelic Games with the sponsorship of the GAA GPA All Stars Awards, now in its third year. It's very important for Opel Ireland to recognise the achievements of our players and it's with great pleasure that we announce Stephen O'Neill and Lester Ryan as the GAA GPA All Stars Players of the League, proudly sponsored by Opel."
Most Read Stories