HL2B: Quick-fire goals win it for Meath over London
March 02, 2013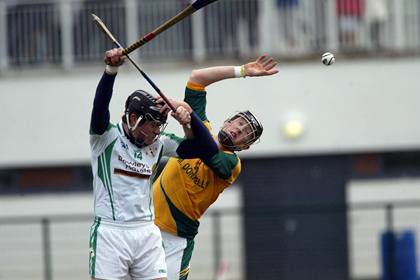 London's Jonathan Maher and Meath's Damien Healy contest the dropping ball during the Allianz HL Division 2B clash in Trim.
TO VIEW A SELECTION OF PHOTOGRAPHS FOR THIS GAME CLICK HERE
Meath 2-17
London 1-11
Quick-fire second-half goals from Barry Slevin and Stephen Morris secured a decisive NHL Division 2B win for Meath over London at Trim on Saturday afternoon.
Fresh from their win over Armagh six days earlier, London hit the front for the third time with three third quarter points on the bounce to lead by 1-7 to 0-9 after 45 minutes.
A close finale seemed certain but then Cillian Farrell's men made their mark. Slevin grabbed the first goal when placed by Adam Gannon.
Within seconds' of the Killyon man's strike, wing-back Morris netted to move Meath five points clear. A James Kelly score moved the home side two goals clear with 48 minutes gone.
While Stephen Clynch top scored for Meath with seven points, he was ably assisted by Peter Durnin with 0-4 while Kelly had just one less.
By the end six different Meath players were on the scoresheet with substitute Damien Magee giving supporters from the host club something extra to cheer about when completing the Royals' tally.
It was the second week running Meath netted a brace of goals and as in Newry the previous Sunday those scores had a big bearing on the outcome.
London's Gerard Hennelly wasn't as prolific as he was in the win over Armagh. In ideal conditions, Meath didn't let up after bagging their goals.
The moved nine points clear on three occasions in the final quarter finishing with that margin to their credit. London's Martin Finn capped a cameo with two pointed frees in the latter stages for the Ring Cup holders.
Meath were quick off the mark with points from Kelly and Durnin in the opening 70 seconds. After Hennelly chalked up London's first score, Tony Dunne's solo run ended with a goal for the visitors coupled with a two-point lead, 1-1 to 0-2.
A Jonathon Maher point left it 1-3 to 0-4 to Eamonn Phelan's men 21 minutes into a low-scoring opening half. Meath closed out the opening period with three scores on the bounce capped by a Clynch pointed free from midfield.
That score left Meath with a minimum margin interval advantage, 0-7 to 1-3. Clynch extended Meath's lead with another pointed free within a minute of the restart.
In a competitive phase of the game, London responded well and there consecutive scores left them 1-7 to 0-9 to the good after 40 minutes. Then Meath struck decisively.
Another Trim player, James Toher showed up well in a tenacious defence. Meath's next outing is against Mayo on Sunday next while London entertain Down on the same day.
Scorers: Meath - S Clynch 0-7 (5fs); P Durnin 0-4; B Slevin, S Morris 1-1 each; J Kelly 0-3; D Magee 0-1.
London - G Hennelly 0-4 (2fs); T Dunne 1-1; J Maher 0-2; M Finn 0-2 fs; S Lambert 0-1, M Duggan 0-1 (f).
Meath - S McGann; C Reilly, D Healy, W Mahady; S Brennan, J Toher, S Morris; S Donoghue, S Heavey; P Conneely (J Meyler 66), S Clynch, J Kelly; B Slevin, P Durnin , A Gannon. Subs - R Hatton for Reilly 55, J Meyler for Conneely 66, D Magee for Durnin 67, R Andrews for Kelly 70, A Watters for Heavey 70.
London - D Russell; P Lane, D Healy, B Healy; D Moore, J Walsh, D Maher; H Vaughan, G Hill; S Lambert, M Duggan (S Egan 25), S Keane; T Dunne, J Maher, G Hennelly. Subs - S Egan for Duggan 25, L Hands for Keane 44, K Bolger for Hill 55, M Finn for Egan 60, E Cooney for Hennelly 62.
Referee - P O'Dwyer (Carlow)
Most Read Stories