Kelleher wary of Kilkenny goal threat
June 30, 2011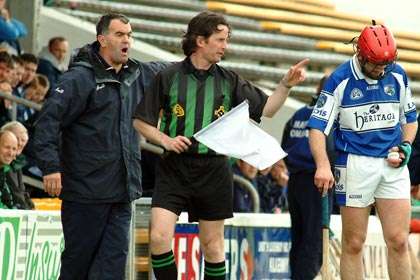 Former Dublin manager Humphrey Kelleher (left) issues instructions
Former Dublin manager Humphrey Kelleher believes Anthony Daly's men must do everything in their power to stop Kilkenny from scoring goals in Sunday's Leinster hurling final.
And if that means fouling, then so be it.
"If you look back at the 2007 and 2008 finals, the tactics Kilkenny employ are very simple," Kelleher said in the Irish Daily Star.
"They get the ball in the half back line, the half backs and midfielders run at the opposing full back line and they get an overlap. The full back line sees two fellas coming at them and are wondering what in the name of God do I do, and invariably Aidan Fogarty and Eddie Brennan are inside and the ball is in the ball of the net.
"Tipperary knew that and what Liam Sheedy did purposely was he fouled them. He didn't allow the half backs and midfielders to run through.
"Derek Lyng was tremendous at that and Michael Fennelly has adopted the same kind of strategy. Sheedy stopped that and said, right I'll forgo a point but I won't allow a goal.
"Therefore, the secret has been found out to some degree. Tipp did it, Brendan Maher and Shane McGrath ran at the Kilkenny defence and they didn't have a Plan B.
"The tactics are one-dimensional and if you don't allow that to continue you have negated some of their threat.
"It took Tipperary time to realise that."
Most Read Stories