Daly: I had run-in with Gilroy
May 27, 2011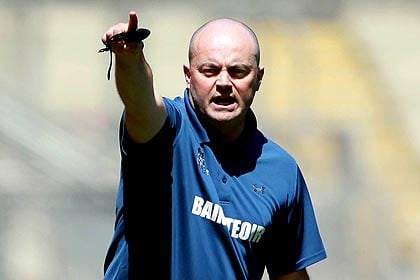 Dublin hurling manager Anthony Daly
Anthony Daly insists he enjoys a good working relationship with his Dublin football counterpart Pat Gilroy, despite admitting to having a run-in with him last year.
Daly was left fuming after Gilroy refused to release Rory O'Carroll for last year's Leinster U21HC final against Wexford. The talented dual player has put football first over the past couple of seasons, but was eager to play a part in the under 21 hurlers' campaign last year.
"I only speak to him (Gilroy) three times in the year I'd say," Daly revealed in the Irish Daily Star.
"I'll send him a text before a game and afterwards and he'll send me the same. I might meet him at something and have a chat. He's a sound bloke.
"We had a bit of a run-in over Rory and I was a bit thick. But when they beat Tyrone (in the All-Ireland quarter-final), I couldn't help but send him a text saying it was a real victory for the courage of his convictions.
"He knew what he wanted. When we won the League, he was one of the first in with a 'well done'."
Most Read Stories