Rossies count the cost of New York trip
May 06, 2011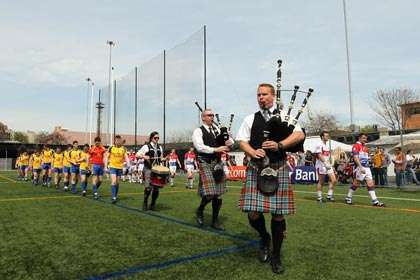 Roscommon and New York parade at Gaelic Park New York.
The Roscommon county board are bracing themselves for a bill in the region of EUR40,000 following their Connacht SFC first round game in New York last weekend.
While counties who travel to play the Exiles receive a grant of EUR50,000 from the Connacht Council, they are still left about EUR40,000 out of pocket. Last year, the total bill for Galway's trip to New York was EUR93,500 and Roscommon are expected to face a similar shortfall.
Chairman Michael Fahey raised the matter in New York at a banquet organised by the Roscommon football club there.
"We want this to continue, but I would ask New York to consult with the smaller counties," he said.
"The costs involved are enormous and it's unfair that we have to raise the funds ourselves."
With the recession continuing to bite, Connacht counties may seek additional funding from Croke Park to help offset the cost of the trip.
Meanwhile, a Connacht Council spokesperson has confirmed that the current arrangement with New York and the Connacht counties is up for discussion.
"The five-year agreement finished up after the Roscommon game and the next one is up for negotiation again," said the spokesperson.
"If it is agreed upon, it will be another five-year block of games, so all counties in Connacht will get to make the trip.
"It is not just the game to New York, it is the whole occasion. It is much bigger than the game and we need to be mindful of the wider significance. It gives them a focal point to their year."
Most Read Stories