Championship double for Westmeath Hurling and Football Club, New York
December 21, 2021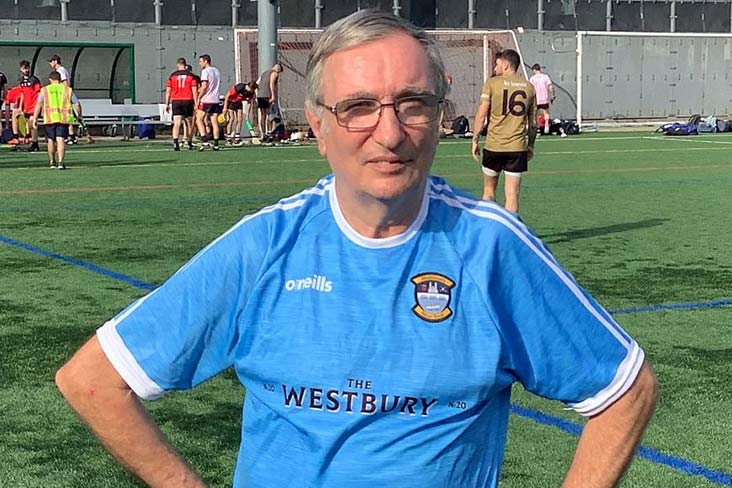 Tom Nugent President of the Westmeath Hurling and Football Club New York
By Tom Hunt
Intermediate Football Final: 'more or less the perfect game'
The Westmeath Hurling and Football Club New York celebrated the 25th anniversary of the club's senior football and hurling New York County title wins of 1996 in the best possible manner. They went and completed another double, although at the lower levels of intermediate football and junior hurling. The reward for winning was substantial: the club will be competing at senior level in both codes in the 2022 season.
The intermediate football title was the first to be captured with a comfortable 2-12 to 0-7 victory over Manhattan Gaels on 15 August after Mayo were dispatched in the semi-final. It was the first time for Westmeath to win this title after failing at the final hurdle against Sligo, Rangers and Brooklyn Shamrocks in the three previous finals. On this occasion the result was never in doubt. Westmeath, without the injured Dylan McDermott, controlled this game from start to finish and at the first water break had raced into 1-6 to 0-0 lead. Points from Phelim Finnegan, Mark Nally and Darren Moore (0-2) eased Westmeath ahead as Manhattan Gaels were temporarily reduced to 14 players when Eoghan Carew was shown a black card by referee Pat Donohoe. Finnegan and Adam Loughlin Stones extended the lead before Darren Moore brilliantly finished an O' Loughlin Stones assist for the game's opening goal.
Manhattan Gaels were held scoreless for the first 17 minutes and were reduced to fourteen men again early in the second quarter when Gearoid Looney committed another black card infraction. Gary Maguire kicked Manhattan's opening point, David Carrick scored a second but Westmeath's response was significant and Dalton McDonagh's diving fisted goal virtually ended the game as a meaningful contest as Westmeath dominated the exchanges in the middle third of the famous Gaelic Park arena. Phelim Finnegan and Eoghan Carew exchanged points before Adam Loughlin Stones added his second to establish a 2-8 to 0-3 interval lead.
With victory guaranteed Westmeath's intensity dipped somewhat in the third quarter but good defending limited Manhattan's scoring opportunities. Trevor Holloway joined the ranks of the black carded after 40 minutes and Gary Maguire's shot at goal from the resulting free was well-saved and smothered by Westmeath keeper Pat Guerin. Guerin's reward was to be penalised for overcarrying in the 'small square' but Guerin had the answer to Eoghan Carew's penalty and brilliantly saved the spot kick. Four points were shared in this quarter with Adam Loughlin Stones and Phelim Finnegan extending Westmeath's total to bring the score to 2-10 to 0-6 at the second water break. Appropriately hydrated, Westmeath controlled the final quarter and two Adam Loughlin Stones points completed the tally; an Elliot Maguire point was the best that Manhattan Gaels could offer and at the final hooter the Westmeath Hurling and Football Club New York had secured the intermediate championship title with a comfortable 2-12 to 0-7 victory.
It was in the words of team trainer Alan O'Mara, a former Cavan goalkeeper and a native of Baileborough, 'more or less the perfect game' a just reward for the players who had worked hard both individually and collectively since March under the guidance of O'Mara and team manager Michael Caterson who has been involved with Westmeath since he arrived in New York from Tyrone. Club chairman, Caterson, was appointed to the managerial-coaching role at the beginning of the season and placed an emphasis on enjoyment and 'the escapism bit football offered in these strange times.' The twice weekly training sessions on Randall's Island were identified by Caterson as 'a place where the players could come together, reconnect and feel a bit of home, have some fun and play a bit of football.' Individual training supported the collective with panellists posting their mileage on the Strava app and in the process put pressure on their colleagues to match their efforts with Gary Moore posting some serious numbers.
Westmeath footballers formed the core group of the team, many of them will be remembered for their performances in Cusack Park and other venues across the county. Keith Scally, the former Tyrrellspass and Westmeath player was an inspiring captain; the Moore name is synonymous with Mullingar Shamrocks; the Loughlin Stones brothers contributed to many of the recent successes of The Downs and Clonkill at both underage and adult level prior to emigrating; Trevor Holloway earned his stripes with Castledaly and Shane Flanagan with Milltownpass. Dylan McDermott was a Mullingar Shamrocks regular before moving to the city of his birth. This is not to underestimate the contribution of the non-Westmeath men, some of whom were natives of the city. This points to one of the essential differences between the 2021 title wins and those of 1996. On this occasion, the two champion teams were composed of players resident in New York. Covid put a stop to the sanctioned players and the transportation of players across the Atlantic and the New York GAA was the winner. The story of the fallout in Ireland after the 1996 senior football win is a story for another time.
Westmeath: Pat Guerin; Paidí Mathers, Keith Scally (Captain), Gary Moore; Trevor Holloway, Alan Dunne, John Comerford; Stephen Monaghan, Mark Nally; Phelim Finnegan, Mark McDonagh, Shane Flanagan; Kieran O'Mahoney, Adam Loughlin Stones, Darren Moore.
Other panellists: Dylan McDermott, Seán Moore, Jack Lynch, Jason Kelly, Liam Butler, Luke Kelly, Jack Martin, Sean Loughlin Stokes, Ciaran Brennan, Ryan McCusker, Gareth Moore and Ger McPartland. Manager: Michael Caterson; Trainer: Alan O'Mara; Selector: Jeff Farrell.
This completed the league-championship double for Westmeath as earlier in the year Westmeath with a Man of the Match shift from Dylan McDermott defeated Leitrim 3-18 ot 2-15 to win a New York League title for the first time since 2012 when Cavan were the victims. Westmeath: Pat Guerin, Paidí Mathers, Keith Scally, Jack Martin, Alan Dunne, Trevor Holloway, Stephen Monaghan, Dylan McDermott, Ciaran Brennan, Kieran O'Mahoney, Seán Moore, Phelim Finnegan, Dalton McDonagh.
Other panellists: Liam Butler, Corey Tennyson, Jason Kelly, John Comerford, Seán Loughlin Stones, Garry Moore, Shane Flanagan.
The double is completed
The junior hurling final, played on 29 August against Tipperary was a more competitive affair. In the league stages of the competition Westmeath had victories over Limerick and Clare but lost to Tipperary (2-14 to 0-16) in the final match of the group. Westmeath started briskly and Karl Behan and Adam Loughlin Stones pointed in the early minutes. Liam Donovan pointed a sideline for Tipperary and Ger McPartland, the Westmeath captain pointed a free. The flexibility of the New York rules allowed McPartland to assist Tipperary at senior level. Tipperary responded and Kyle Creamer scored the game's opening goal and then added a point for good measure. Points from McPartland and Ultan O'Connor tied the ball game. McPartland's third point for a Westmeath lead was neutralised by a similar effort from Franke Kennedy before two points from Joey Grace sent Tipperary into a 1-5 to 0-6 lead at the first water break. Points from New York-born Jack Martin and a converted 65 by McPartland levelled matters as Westmeath began to dominate. Pearse Donnelly pointed from long range, but Joey Grace again levelled. Kennedy and McPartland swopped scores to level the match for the fifth time. A double save from Colin Whyte proved crucial and was followed by another Jack Martin point to send Westmeath into a 0-11 to 1-7 half-time lead.
Westmeath attacked on the restart and Adam Loughlin Stones went close before Liam Donovan with a Tipperary point levelled matters again. Mark Dowds (0-2), Jason Kelly and McPartland added to the Westmeath tally as a single Frankie Kennedy point and two from Grace kept Tipperary's hopes alive. Westmeath then conceded a soft goal as a long-range free from Joey Grace dropped into the net and when the same player added a point, Westmeath were under pressure. The response was immediate and came in the form of a brilliant Adam Loughlin Stones goal to secure the lead for Westmeath at the second water break (1-15 to 2-11). On the restart, a superb strike by Liam Donovan from close to the sideline levelled the match for the seventh time but this proved to be Tipperary's last meaningful contribution to the absorbing final. Adam Loughlin Stones pointed and then collected a pass from Mark Dowds and crashed the ball to the net for his second goal. Ultan O'Connor pointed, Ger McPartland added two more before Jason Kelly scored his second point of the final and at the close of play the scoreboard read 2-21 to 2-13 in favour of Westmeath who lined out in retro 1992 style jerseys sponsored by Raharney-native Ger O'Reilly (REICOR Construction) and Colin Whyte (CFW Contracting).
The team also included men who were prominent on the fields of Westmeath prior to moving to the city that never sleeps. Colin Whyte starred for St Lomans and Cullion and was a former Westmeath county player in both codes; the Loughlin Stones brothers were mentioned earlier and Adam has two county senior championship medals won with Clonkill to add to his New York collection; Jeff Farrell togged out for Tubberclair. The panel also included men from Armagh, Galway, Kildare, New York, Limerick, Dublin, Meath, Wexford and Donegal.
Westmeath: Colin Whyte; Brandon Hickey, Tiarnan Donnelly, Alan Sherlock; Liam Butler, Pearse Donnelly, Sean Loughlin Stones; Ultan O'Connor, Jack Martin; Karl Behan, Ger McPartland (Captain), Leon Dunican; Luke Redmond, Adam Loughlin Stones, Mark Dowds. Other panellists: Jason Kelly, Stephen O'Neill, Neil Francis, Aidan McKiernan, John Dennehy, Stephen Monahan, Jeff Farrell, Dylan Curran, John Comerford, Simon Hickey.
Manager: Mick Stones. Selectors: Tom Nugent, Barry Smyth, Jim Miller. Trainer: Brian McPartland.
The double victory was a special one for some who have given long and distinguished service to the Westmeath GAA cause in New York. Kilbeggan native, Mick Stones had the privilege of managing the hurling team that include two of his sons Adam and Seán. Michael 'was one proud man' in what was his 'greatest ever sporting memory.' Adam's role in both title wins was crucial. Mick Stones (with J. P. Clarke's Saloon) sponsored the club's junior team recognised by the MJS Services logo adorning the jerseys.
John Moore with several family connections involved took special pride from these victories. A founding member of the club, John has been involved in the Westmeath Hurling and Football Club New York since the mid-1980s and has served the club in every way possible since its formation. Pressure of business forced John to take a step back from managerial involvement in 2021 but John's and the family commitment was as strong as ever and the MooreGroup Corporation were also club sponsors. John's son Seán was one of the New York-born members of the panel and impressed with his running and passing when introduced in the second half. It is not necessary to be born in Ireland to be a good Gaelic footballer or hurler. A shoulder injury kept Gareth side-lined for the season. In the football final, Westmeath lined out in their black jerseys adorned with the sponsor's logo reading DTM: the law offices of Darren T. Moore.
The same Darren, John's nephew, lined out at corner forward and inflicted serious damage on Manhattan Gaels in the opening quarter. At the other end of the field, Gary Moore, like his father Ned, took care of business around the goalmouth and its environs. And Darren's brother Conor's tavern in Manhattan, The Westbury sponsored the football team's training tops.
Overseeing the lot with his quiet but significance presence was the club's president Tom Nugent, a man who has done unbelievable work over the years to keep the name of Westmeath GAA alive in New York. Not one for the limelight and an every-present figure in Gaelic Park, there isn't a hurler (in particular) or a footballer from the county (or most other counties!) that arrives in New York without coming to the attention of Tom, Mr Westmeath GAA in New York.
Their hard work was supported by a dedicated committee of Michael Caterson (Club Chairman), Colin Whyte (Hurling Committee Chairman). Ger McPartland (Club Secretary), Ultan O' Connor, Sean Loughlin Stones, Jeff Farrell (Club Treasurer) and Castlepollard's John Melia.
Most Read Stories