Conor McKenna: The Most Travelled Man for Football in Ireland
December 10, 2021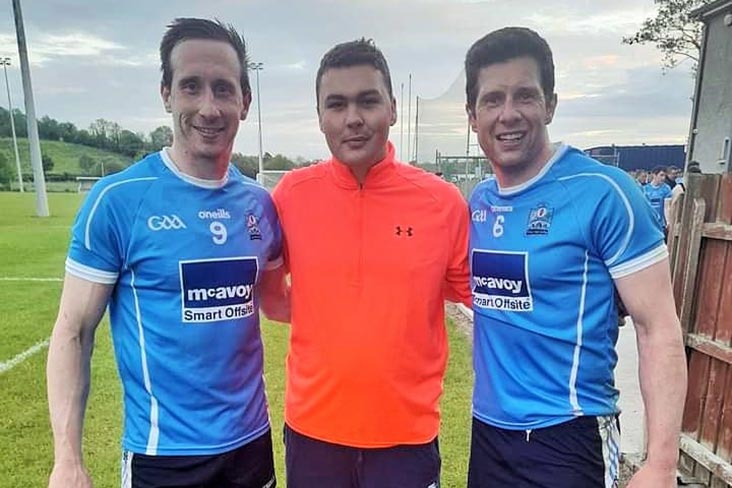 Conor McKenna with former Tyrone greats Colm and Sean Cavanagh
"Here is the most travelled man for football in Ireland" was the welcome I got when walking through the gates of Celtic Park in Derry on last Sunday afternoon.
Celtic Park in Glasgow is commonly referred to as paradise but I really do feel at ease when walking through the gates of a GAA ground any weekend. And I've walked through quite a few to be honest. I've walked through gates in 29 of the 32 counties to watch football and hurling matches.
People do not believe me when I say I've come up from Mullingar, or more recently Castlebar to watch football and often wonder is there a hidden second motive behind it.
I get an unbelievable energy surge and buzz off travelling to games. I finished a night shift at work at 6am on Saturday morning and could not sleep with excitement despite being exhausted.
Ended up waking with an alarm at 9:30 am and took off in the direction of Carrickmore, Co. Tyrone for the meeting of Tyrone's Dromore vs Fermanagh's Derrygonnelly in the Ulster club championship.
Throw in was at 1:30 so it was a close shave timewise, but I made it there. I was treated to a great close fought encounter which finished level as Derrygonnelly's Conall Jones split the post with an inswinger with the last kick to force extra-time before the Fermanagh side prevailed.
I then set off on a one-hour drive to my accommodation in Derry City where I checked into Cathedral View run by Gerry McGoldrick who is an absolute gentleman who I always find time to have a long conversation with.
Next stop was to the city of Derry and its amazing bars. I always say you have absolutely everything handed to you on a plate on a GAA trip.
Excellent bars, get to see the country, meet amazing people, and witness some breathtaking football or hurling. I am fascinated by recent Irish history too and there's no better place to absorb that than in Derry City.
I had a very good night in the town and it was well after 1am before I managed to sleep. I was feeling a bit worse for wear on Sunday morning but the buzz of the action certainly gave me much needed energy.
The accommodation was a five minute walk from Celtic Park and I arrived there at 12:30 with throw in at 1pm. I checked in with a few journalists and friends who I know from travelling and I witnessed the double header of Steelstown vs Donaghmoyne and Glen vs Scotstown.
For the second game I was directly behind Malachy O'Rourke who in my opinion is the best manager in Ireland. I watched fascinated as his calm demeanor on the sideline was evident, as O'Rourke stood unflustered taking notes, the coolest man in the premises.
It was great to see outstanding talent such as Conor Glass, Rory Beggan, Ciaran McFaul, Niall Sludden, David Garland, Kieran Hughes, Ryan Jones, Conor McCarthy, David Garland and Darren Hughes in action throughout the weekend.
I ended up staying on the Sunday evening too and enjoying the nightlife in the city before heading home on Monday morning.
I graduated with a journalism degree from DCU in June and my thesis or main assignment was a 7000-word feature on the legacy of the troubles on the GAA.
I spoke to some great people when doing that and it was great to meet some of those in person and thank them for their assistance.
Having contacts in the GAA world certainly enabled me to get a far better score in college assignments than I would have expected.
Gerry Adams was standing beside me watching Antrim hurling earlier in the year while Sean Cavanagh gave me a pair of gloves to take home with me when I visited the Moy in Tyrone, which was an unbelievably kind gesture.
GAA travelling has certainly shaped most of the experiences in my life in recent times. It is great value as well as you could take in multiple games very, very cheaply and have great quality action at your disposal, along with getting to see new places and meet some fantastic people.
I took a few calls when driving between games and they were all either reviewing or previewing the action – total obsession really.
The friendships made and experiences gathered while being a tourist on the GAA and sporting scene in general have been magnificent and I wouldn't be able to go into a ground unrecognized at this stage!
Excellent memories from excellent journeys – would do it all again in a heartbeat.
Most Read Stories