Sigerson Cup round-up
January 12, 2020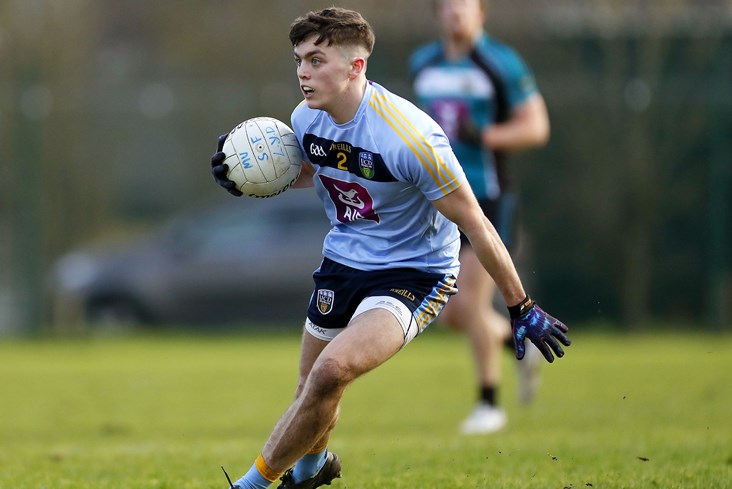 Cavan and UCD defender Luke Fortune
The Sigerson Cup got underway today and holders UCC were forced to dig deep by NUI Galway.
The champions commenced the defence of their title with a hard-earned 2-12 to 1-14 success over their hosts in Dangan.
Rory Cunningham and James McEntee bagged the goals for Billy Morgan's charges while the influential Robert Finnerty raised a green flag for the Maurice Sheridan managed NUIG.
Full-foward Finnerty finished with 1-9 to his name.
Hosts DCU survived a scare against Garda College before Paddy Christie's men picked up the points courtesy of a 0-11 to 0-9 victory.
DCU's Dublin All-Ireland winner Paddy Small was shown a red card while Donegal netminder Shaun Patton was in fine free kicking form for the Garda College before he was issued with his marching orders late on.
Micheal Banningan's six-point contribution was a key ingredient in the Dublin college's winning formula.
Meanwhile, UCD rode their luck before seeing off the challenge of Ulster University in extra-time.
Luke Fortune came to the Belfield College's rescue with an equalising point in normal time and they made the most of their second bite of the cherry to run out 0-13 to 0-11 winners.
The home outfit were forced to line out minus the services of All-Star forward Con O'Callaghan after he injured his shoulder in the warm-up.
Sligo's Sean Carrabine sent over three points as IT Sligo got the better of UL by 0-8 to 0-5 while St Mary's, the Michael Murphy managed Letterkenny IT and IT Carlow also progressed.
Armagh ace Oisin O'Neill sent over five points in St Mary's impressive 11-point victory over Maynooth while Owen McCabe and Conn Kilpatrick netted the Belfast outfit's goals.
Sigerson Cup results:
NUIG 1-14 UCC 2-12
St. Mary's 2-14 Maynooth University 0-9
Letterkenny IT 1-18 Athlone IT 3-4
IT Sligo 0-8 UL 0-5
IT Tralee 1-13 IT Carlow 3-9
UCD 0-13 Ulster University 0-11 (aet)
DCU 0-11 Garda College 0-9
Quarter-final pairings:
IT Carlow v UCC
IT Sligo v Letterkenny IT
St Mary's College v UCD
Queens Unversity v DCU
UCC - E O'Brien; D O'Brien (0-1), L O'Donovan, C Gammell (0-1); J McEntee (1-1), M Flood, P Feehan; P Lucey, B Hartnett (0-1); J Naughton, S O'Shea (0-2f), R Cunningham (1-1); C O'Callaghan (0-1), K Spillane (0-1), M Cronin (0-3, 1f, 1m). Subs: D Casey for M Flood, G Murphy for R Cunningham, C Barrett for K Spillane.
NUI Galway - R Boland; K Carr, S Brennan, S Mulkerrin; K McDonnell, E O'Donoghue, A Claffey; C Darcy, M Ruane; P O'Donnell, F O'Laoi (0-3), N Mullen; J Maher, R Finnerty (1-9, 0-3f, 0-1m), D Conneely (0-1). Subs: K Molloy (0-1) for K Carr, P Costello for J Maher, G Burke for A Claffey, I O'Sullivan for K O'Donnell, C Bohan for S Brennan.
Referee - J Gilmartin.
**
DCU - E Comerford; C Morrison, B McCole, D Corcoran; K Flynn, S MacMahon, D Monaghan; J Morrissey, S Bugler; B Stack (0-1f), M Bannigan (0-6, 4f), M Barry (0-1); T E Donohoe (0-1), P Small, D Garland (0-1f). Subs: T Fox (0-1) for M Barry, C McKeown for D Corcoran, S Akram for D Monaghan.
Garda College - S Patton (0-3f); D Dunne, S Nerney, D Petit; T Brereton, D Masterson, J Bellamy; T Clarke, C McGinley; K Doherty, R Harkin, K O'Sullivan; P Mannion (0-3, 2f), P McKeon (0-3, 1f), C O'Brien. Subs: J Kane for C O'Brien, A Walsh for P McKeon, J Thackaberry for J Bellamy, M Breathnach for D Petit.
Referee - A Nolan.

**
UCD - G O'Rourke; C O'Shea, M Breen, M O'Connor; L Flatman, R O'Toole, K Kennedy; R Connellan (0-2), B O'Sullivan (0-2); L Fortune (0-1), S Coen, S Egan; C Hartley (0-1), B McGinn, G Walsh (0-5, 4f). Subs: E Harkin for S Egan, A Connor for L Flatman, F Clifford (0-2) for K Kennedy, R McCormack for C Hartley, C Moriarty for B McGinn, A Mohan for L Fortune, D Silke for C Moriarty.
Ulster University - O Lynch; E Murray, M McKernan (0-1), P McGrogan; R Jones (0-1), T O'Brien, D Gallagher (0-1); T Galligan (0-1), B Kennedy; C Quinn, J Harkin, C Devlin; L Brennan (0-3f), D Kerr (0-1), D Jones. Subs: D Mulgrew (0-2) for D Jones, M Gallagher (0-1) for M McKernan, R Gormley for B Kennedy, D McEnhill for J Harkin.
Referee - M McNally.
**
IT Sligo - P O'Malley (0-1f); J Haran, D Phillips, T McSkean; J Allen, K McGloin, S Murphy; K McBrearty, L Molloy; L Jones, A McClean (0-1), S Carrabine (0-3, 2f); T Govorov (0-1), N McGovern (0-2), C Murray. Subs: R Harkin for J Allen, J Clarke for T McSkean, S McGrath for T Govorov.
UL - S Ryan; M Reidy, J Dawson, T Hoare; B O Beaglaoich, G White, P Maxwell; J O'Connor (0-1), H Bourke; F McDonagh (0-2, 1f), J Kennedy, E Lawless; K Sexton (0-2f), F Flanagan, G Sheehan. Sub: P Maher for T Hoare.
Referee - K Eannetta.
**
St Mary's - R Burns; L Rafferty, C McKinney, J Diamond; C McAllister, R McCusker, T Carney (0-3, 1f); L Devlin, O O'Neill (0-5, 2f); J McCartan, R Coleman, C Kilpatrick (1-0); R McSherry, O McCabe (1-2), R Rafferty (0-2). Subs: R Kelly for J McCartan, C McConville (0-1) for R Rafferty, P Quigg (0-1) for L Devlin, C Quinn for T Carney, G Burns for R Coleman.
Maynooth - J Nugent; N O'Sullivan, J Kelly, D Newcombe; D Courtney, J Gibbons, M Hyland (0-1); D Warnock (0-2), D Dixon; D Malone, N O'Baoill, A Kealy; J Hyland (0-1f), P Fogarty (0-1f), J Robinson (0-4, 1f). Subs: R O Giollain for A Kealy, B McLoughlin for P Fogarty, K O'Callaghan for D Dixon, B Doyle for D Malone, C O'Sullivan for N O'Baoill.
Referee - F Kelly.
**
Letterkenny IT - M Lynch; A Gillooly; Mark McAteer, N McIlwaine; L Jackson, O Langan, C Bonner (0-3); M Langan (0-5, 4f), C Marley (0-1); R McFadden, P Mogan (1-6, 0-1f), P Dolan (0-2, 1f); D Black, J Campbell, E McGettigan (0-1). Subs: U Doherty for J Campbell, Mark McAteer (Fanad) for D Black, M Duffy for C Bonner, E Harkin for R McFadden, L Kelly for L Jackson.
Athlone IT - C Haslam; B Sayeh, A Cregg, P Nestor; E O'Connor, D McCabe, N Harte (0-1); A Delaney, K Higgins; P McManus, G Horan (0-1), C Mannion (1-0); E Lyons, D McMahon (1-1), G Russo (1-1, 1-0pen, 0-1f). Subs: R Donoghue for E Lyons, S Flynn for P McManus, L McKeown for A Cregg, C McDonagh for G Russo.
Referee - B Cawley.
**
IT Carlow - K Roche; T Collins, R Hitchcock, C Walsh; C Doyle (1-0), R Ryan, J Moore; S Ryan, A Steed (1-0); E Lowry (0-1), C Byrne, C Farrell (1-6, 1-0pen, 0-4f); N Hughes (0-1), P O'Toole, J Walsh. Subs: P O'Connor (0-1) for C Walsh, T Griffin for S Ryan, P Farrelly for J Walsh, S Crowley for C Doyle.
IT Tralee - J Duggan; M Fitzgerald, M Gavin, J Morgan; C Byrne, S Kelliher, J Myers; M O'Shea, P Clarke; S O'Connell, C Keane, J Savage; T Brosnan (0-3), D Clifford (0-7, 3f), BJ Keane (1-3, 0-1f). Subs: J O'Sullivan for J Savage, I Courtney for P Clarke.
Referee - D Murnane.
Most Read Stories