Comment: spare a thought for the forgotten stars of the McDonagh Cup tonight
November 01, 2019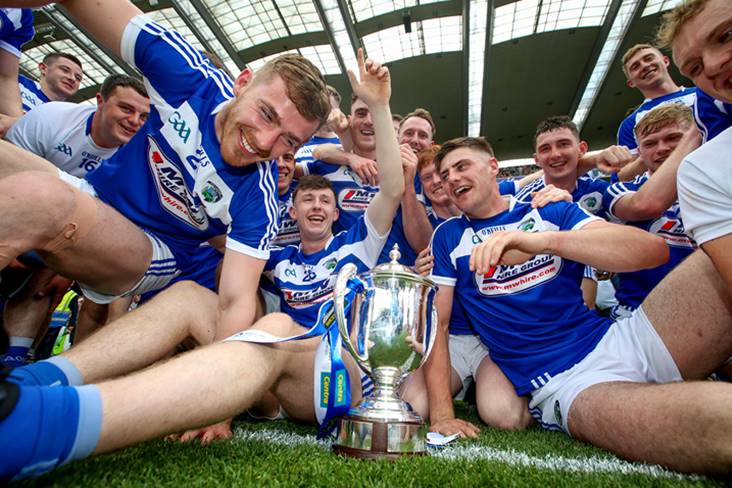 Laois players celebrate with the Joe McDonagh Cup. ©INPHO/Tommy Dickson.
The social highlight of the GAA year will take place tonight when the 2019 PwC All-Stars will be honoured at a gala black tie banquet in Dublin's Convention Centre.
The event, which will be shown live on RTÉ TV, will also honour the GAA/GPA Players and Young Players of the Year in hurling and football as well as the 'Champion 15' teams from the 2019 Christy Ring, Nicky Rackard and Lory Meagher Cups.
But, with the exception of Laois' Paddy Purcell who will receive the Joe McDonagh Cup Player of the Year award, there will be no recognition for any McDonagh Cup players after the GAA decided to abandon the awards for the second tier championship after only one year. Instead, players competing in the Joe McDonagh Cup were considered in the PwC All-Stars for the Liam MacCarthy.
As it transpired, only two players who plied their trade in the Joe McDonagh Cup received nominations. They were the Laois duo Enda Rowland and Jack Kelly who starred in their county's Joe McDonagh Cup triumph before going on the shock Dublin in the preliminary All-Ireland SHC quarter-final.
Dropping the Joe McDonagh Cup All-Stars without any notice is one thing, but not affording the stars of the competition the same recognition as those in the other four hurling championships is outrageous.
It's an insult to the likes of Westmeath's Killian Doyle, who scored 3-61 in five Joe McDonagh Cup games, Kerry's Fitzgibbon Cup winning forward Shane Conway and Antrim's Neil McManus, who would get his place on any county team, not to be given the recognition they deserve.
Hopefully, the GAA will see sense and restore the Joe McDonagh 'Champion 15' next year. What has happened here doesn't bode well for the second tier football championship which comes into effect in 2020.
Most Read Stories