Submissions sought for GAA Generations oral history project
April 19, 2023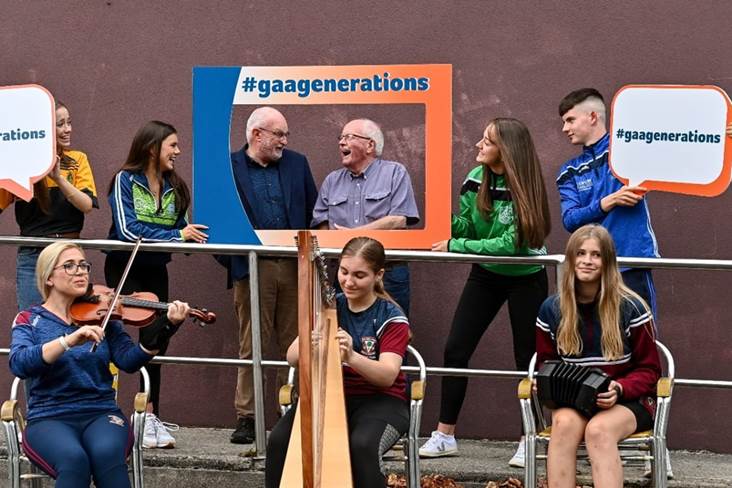 GAA Generations
GAA Generations is a major new oral history project built on conversations between young and old sections of the GAA membership.
It offers the chance for people to be a part of the largest inter-generational study in the GAA in its near 140-year history.
Ireland boasts a rich tradition of passing our stories from one generation to the next. To honour that, and to capture a better understanding of what the GAA means to its members, the Association has launched a 'GAA Generations' oral research project.
The idea is simple: we are inviting young GAA, LGFA and Camogie Association members aged 12-21 to record on their mobile phone a conversation with someone who they look up to and admire in the 55+ age bracket. It could be, for example, a parent/grandparent, a coach, or a teacher, past or present, that saw and nurtured your potential. Older participants will also be given the opportunity to quiz their young interviewees on their GAA experiences and how it may have impacted their understanding of who they are.
Young people who sign up will receive online training in conducting an interview (based on the 'Youth as Researcher' training developed by the UNESCO Centre in the University of Galway). The recorded conversations, along with a photo of the participants, will be stored on the GAA's eLearning platform and published as part of a GAA archive. Participants will also receive a UNESCO Chairs/GAA Youth Researcher Certificate of Participation.
GAA members aged 12-21 years (inclusive) who would like to participate in this research project should complete the expression of interest form found at: www.gaa.ie/generations. This project is kindly supported by the National Office for Suicide Prevention. Under 18s are required to have parental/guardian consent to participate.
All those who participate will be given a free interviewer pack while those who submit recordings will be entered into a draw for GAA leisure wear and attendance at an event in Croke Park later this year with special guests that will discuss the findings of this unique inter-generational conversation on the GAA. A video voiced by Irish actor Cillian Murphy will accompany the final research.
Clubs and schools are encouraged to get involved in this major research.
Most Read Stories