"Don't tell me we can't come back next February with a stronger proposal"
October 24, 2021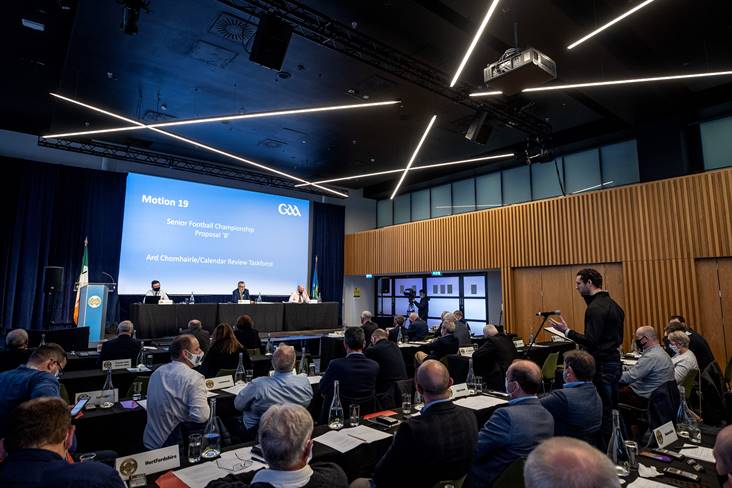 GPA CEO Tom Parsons speaks at Congress. ©INPHO/James Crombie.
GPA chief executive Tom Parsons has called for a tweaked 'Proposal B' to be brought before Congress next February.
The proposal for a new league-based football championship structure in 2022 was defeated at Special Congress yesterday, despite receiving 50.6% of the vote, and the public backing of GAA President Larry McCarthy and Director-General Tom Ryan, but ultimately failed to pass the 60% majority required.
It means a return to a qualifier system last used in 2017 with qualifiers and quarter-finals - and without the Super 8s. However, Parsons believes the foundations have been laid for change.
"I think it is a tweaking exercise," Parsons said. "There is no reason why that can't be taken and tweaked and brought back in February as a separate motion but similar spirit.
"We'll be starting that process very soon. Change will never be perfect and people will need to accept that what is brought to the table will never 100% facilitate everyone's hopes and aspirations, and that does need to be realised.
"I'm absolutely optimistic that change will be brought back and be on the table in February, that we will shift that dial from 50.4% to 60%."
He added: "Don't tell me we can't come back next February with a stronger proposal."
"We've got a proposal that got the majority today, that sparked huge interest and conversation. It is the foundation to something. Not all that work is undone because it didn't pass today."
Most Read Stories