GAA president expects to see All-Ireland SFC restructure revisited 'very quickly'
October 23, 2021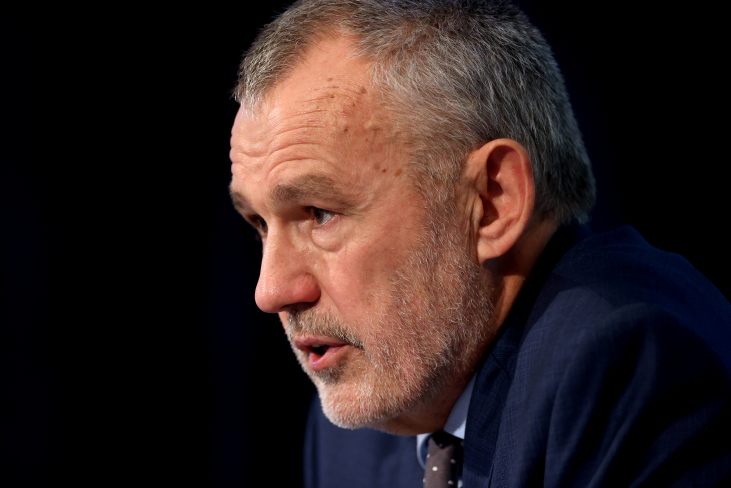 GAA president Larry McCarthy at Special Congress ©INPHO/James Crombie
GAA president Larry McCarthy says he expects the debate around the format of the All-Ireland senior football championship to be revisited very soon.
Today saw Motion 19, which favours a league-based football championship, rejected by delegates and Special Congress whom instead voted in favour of reverting to the system that was last used in 2017, with qualifiers and quarter-finals, but no Super 8s taking place.
While Mr McCarthy was disappointed to see 'Proposal B' fail at Croke Park today, he's determined to bring forward restructure plans for the All-Ireland football championship in the near future.
"Having said during the week that I hoped we'd be bold, based on the result, for me, we weren't bold enough in terms of it didn't pass," McCarthy is quoted saying by GAA.ie.
"But having said that we're looking forward to a pretty altered landscape anyway for the Championship in 2021.
"But, yeah, I would have liked to have seen it pass.
"I expect that we will revisit this very, very quickly. I'm not so sure we'll have something for (Annual Congress 2022) in February but there's a majority for change and every speaker said they'd like change. In a lot of cases it just wasn't the change that was proposed, but there's certainly a mandate there for change.
"We will contemplate and see how we will bring forward some alternatives in terms of the options that are put on the table.
"I think everyone who spoke against it prefaced their remark by saying we want change, we just don't like this change. And we also got 50.9% of people looking for change, so that would appear to me to be a huge mandate to push on."
Most Read Stories