Galway GAA authorities wait on response from clubs in possible Covid-19 restriction breach
September 23, 2020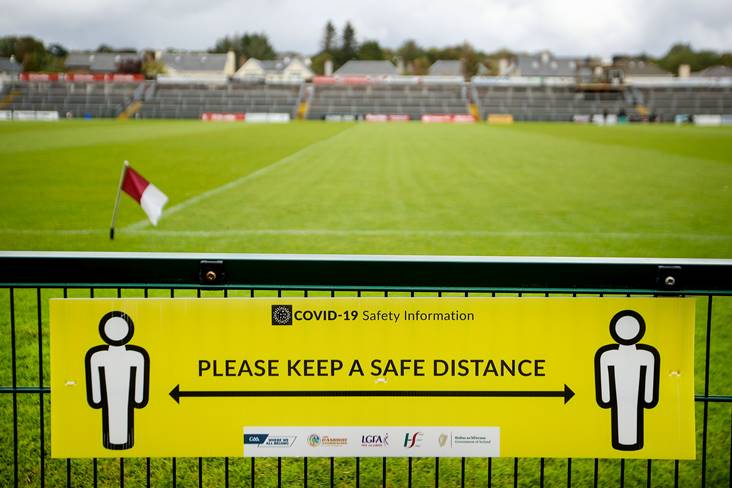 Social distancing sign at Pearse Stadium. ©INPHO/Tommy Dickson.
By John Fallon
Galway GAA authorities are waiting on replies from two clubs involved in a relegation hurling match to establish what course of action might be required to establish if there has been a breach of Covid-19 restrictions.
Galway GAA chairman Pat Kearney said that an investigation is ongoing and they expect a response soon from the Beagh and Kinvara clubs who were involved in a relegation match on September 12.
A Beagh player who is based in the United States and who has travelled home to play for his club over the past few years is at the centre of the investigation after Kinvara queried whether the player had adhered to Covid-19 restrictions.
Chairman Kearney confirmed that the Covid-19 issue is included in the referee's report after Kinvara officials raised the matter.
He said both clubs have been asked for their observations on the matter and that it will be discussed by a meeting of the Galway Competitions Control Committee when the replies have been received.
Both clubs have declined to comment publicly on the matter while the investigation is ongoing.
It's understood that Kinvara have asked the Galway authorities to examine whether the player quarantined for two weeks as per Covid-19 restrictions before playing in the relegation play-off.
"The referee's report has been sent to both clubs for their observations and comments. The matter is mentioned in the referee's report as Kinvara officials drew it to his attention," said Kearney.
"When the responses come back from both clubs there will be a CCC meeting and the matter will be dealt with there."
Kinvara, who lost the relegation round robin match by six points to Beagh, are scheduled to meet Kilnadeema/Leitrim on Saturday to decide which club drops to intermediate for next season but it remains to be seen if this game goes ahead.
Most Read Stories