"Forever one of our own" - Clodiagh Gaels mourn passing of young dual player
May 18, 2023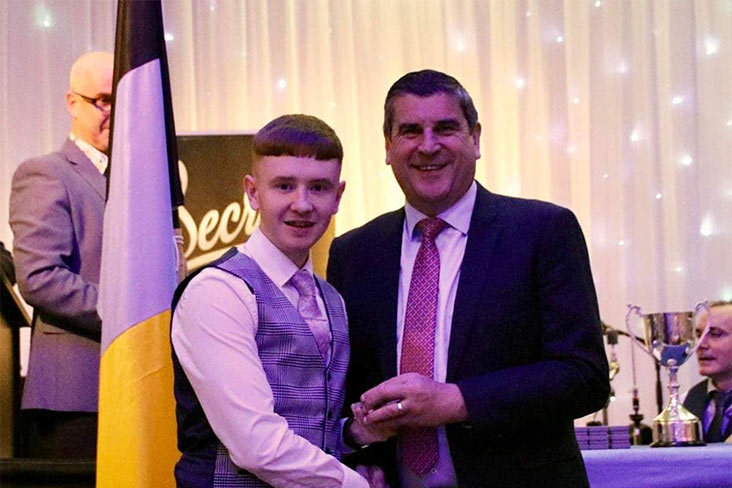 Tiernan Grennan (RIP) with Offaly GAA chairman Michael Duignan.
The sudden death of Clodiagh Gaels dual player Tiernan Grennan has cast a cloud of sadness over Offaly's Leinster U20HC title celebrations.
After a short battle with illness, 20-year-old Tiernan passed away peacefully in the early hours of this morning surrounded by his loving family and friends.
Tiernan's death has shocked his local GAA club Clodiagh Gaels with whom he excelled across both codes, winning a county JFC C title in 2020 and playing a 'pivotal' corner-back role for the junior A hurlers in their run to last year's semi-final.
"It is with a heavy heart that we announce the passing of Tiernan Grennan. We extend our deepest sympathies to the Willie, Carol, Aoibhe, Jessica, the extended Grennan and Coughlan families and all of Tiernan's friends at this very sad time," Clodiagh Gaels wrote in a glowing tribute on Facebook.
"Tiernan lost his battle in the early hours of this morning surrounded by his loving family and friends after a very sudden and short illness. It is hard to comprehend the shadow that is covering over our parish at present. We are lost for words and in shock.
"Tiernan proudly represented Clodiagh Gaels in the past few years in both hurling and football. He was part of the Clodiagh Gaels team that won the Junior C football championship in 2020 while last year he played a pivotal role at corner back on the Junior A Hurling team as they progressed to the semi final and he was a member of the senior hurling panel under manager Columba McDermott.
"In his short life Tiernan made so many friends both on and off the field. You would never see Tiernan without a smile or a grin on his face and he would always say hello.
"All club activity will cease immediately until further notice. Yet again we extend our deepest sympathies to Tiernan's family and friends and we ask you to respect their privacy at this very sad time. We'll miss you T. Forever one of our own."
Most Read Stories