Murray sees league as 'primary focus' for Antrim
April 06, 2021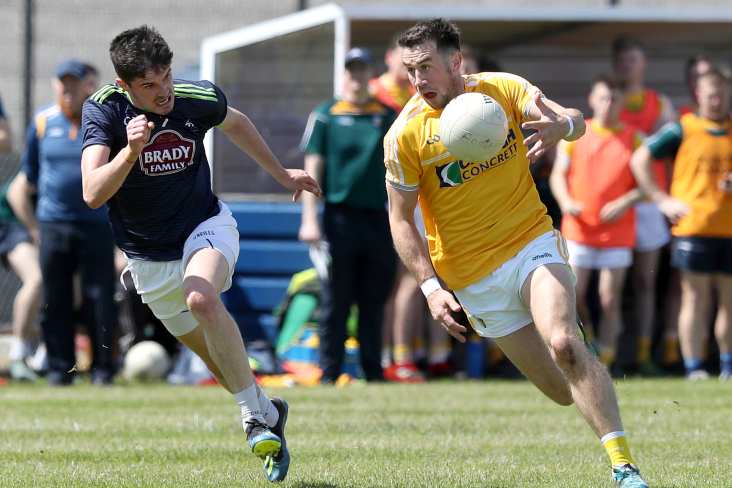 Antrim's Conor Murray looks to go past David Hyland of Kildare
Antrim attacker Conor Murray says the Allianz Football League will be the Saffons' "primary focus" once the 2021 season gets up and running.
Antrim missed out on promotion to Division 3 by a point last season and it has been confirmed that this year's campaign will see them in a regional group with Leitrim, Sligo and Louth.
The GAA's revised fixtures roadmap for 2021 has yet to be unveiled but, speaking to belfastmedia.com, Murray says he and his team mates will be relishing the prospect of a game every weekend if and when this year's league campaign gets underway.
"The league is our primary focus if we're being honest," said the Lamh Dhearg clubman. "If it does start in May, it looks like there's going to be a match every weekend. From a players' point of view, that's something to look forward to.
"Hopefully we'll have a bit of structure and focus for the season ahead. I think when you get a set date then you can focus on it more. It's all up in the air now because you don't know if you're going to have a match in a month or is it going to be longer.
"Everyone is in the same boat but we're just trying to keep ourselves ticking over as best we can.
"Some of us are furloughed, some working from home. I'm a teacher and we are on a rota where we aren't in full-time until after Easter, so we're just trying to keep ourselves occupied by doing a lot of running on our own and things like that."
Most Read Stories