Tier 2 championship gets the green light
October 19, 2019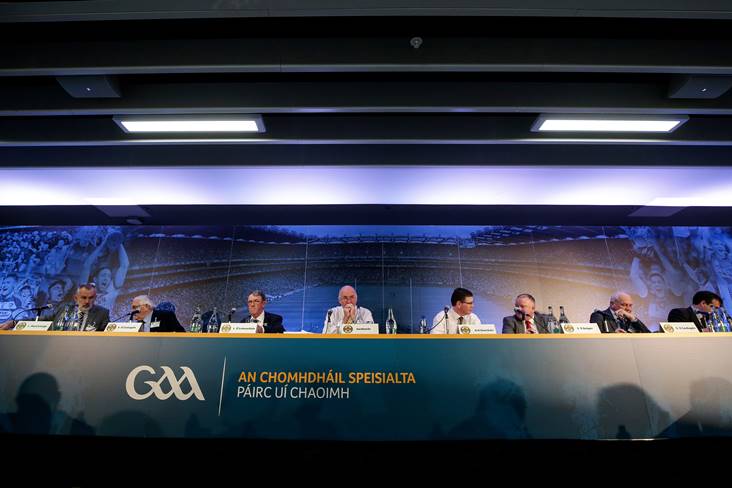 Pairc Ui Chaoimh hosts GAA Congress. ©INPHO/Laszlo Geczo.
A Tier 2 football championship is on the way next year.
Today's Special Congress in Pairc Ui Chaoimh gave the green light to a new competition which means that Division 3 and Division 4 teams will be out of the running for the Sam Maguire Cup once their provincial involvement comes to an end - unless they reach their respective finals.
75.5% of delegates voted in favour of the new competition.
Martin Coleman (Wicklow), Terence Boyle (Leitrim), Denis Holmes (Limerick), Pat Toner (Louth) spoke in support of the new format while Ciaran McCavana (Antrim), Jack Devanney (Down), Sean Campion (Carlow) and Tom Boyle (Fermanagh) voiced their opposition to the proposal.
Earlier in proceedings, delegates also supported Motion 2, which was submitted by Tipperary, and which states that the teams competing in Tier 2 should be based on the final standings of next year's Allianz football leagues.
In other words, teams that find themselves in Division 3 and 4 next March will enter the new competition.
Premier County secretary Tim Floyd stated his county's case in media interviews this week: "We feel that is unfair because players and teams should have the right to play their way into Division Two.
"None of us knew what was coming when the league was played earlier this year and then with a stroke of a pen we're put into Tier 2.
"We want it based on the 2020 league standings, so everyone knows what the situation is before the start the year. That seems to make perfect sense. Otherwise you're working off this year's league where maybe teams were pulling back a bit or resting players for certain games."
And it appears that this argument swayed delegates to vote for Motion 2 by a massive 87.5% majority.
Most Read Stories