GAA will consider all options on Allianz Leagues
February 16, 2021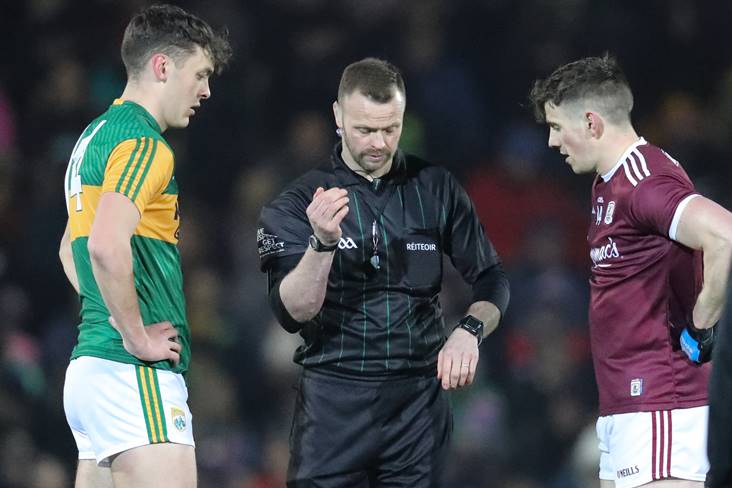 Kerry captain David Clifford and Galway captain Shane Walsh with referee Anthony Nolan. ©INPHO/Keith Wiseman.
GAA Director General Tom Ryan insists they will "consider all the options" before making a decision on the 2021 Allianz Leagues.
The football and hurling leagues are under severe threat of not being played this year due to the current Level 5 Covid-19 restrictions, a lot will depend on the Government's revised Living with Covid plan next week.
"The league as the most imminent competition is the one that's going to be under the most pressure, Ryan said at the launch of his 2020 annual report and the GAA's financial accounts.
"Obviously, as you start pushing things back, a week here, a week there, it's all cumulative. It does mean that you have to look at alternatives. We have alternatives already considered. There's really no point airing those now. All we know for definite is most of them are going to turn out to be obsolete and defunct anyway."
Ryan raised some logistical challenges facing the GAA in running the Allianz Leagues during a pandemic.
"I can understand that when you consider the sheer scale and duration of the Allianz League, that's a lot of people, it's a lot of travel, all of those people are like ourselves embedded in communities and so on," the Carlow native continued.
"It's disappointing because that's our raison d'etre but we will be back. A bit like last year when we get the chance to do it, we'll do it well, we'll do it properly, we'll do it safely. I can't honestly tell you when that's going to be. I hope it's not too long.
"There probably will come a time when we'll have to consider all the options ahead of us and make a call on things."
Most Read Stories