"It has minimal risk with regards to over-running the health service..."
February 14, 2021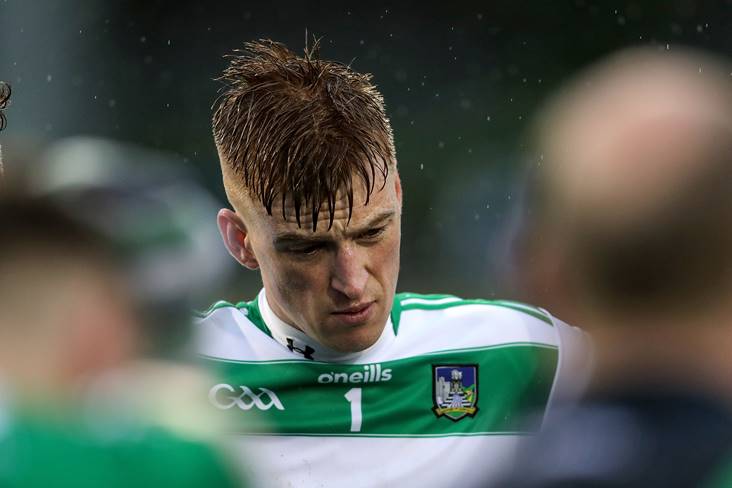 Limerick goalkeeper Donal O'Sullivan. ©INPHO/Laszlo Geczo.
The physical, mental and social benefits of playing gaelic games outweigh the "minimal" risk of "over-running" the health service.
That's according to Limerick football goalkeeper Donal O'Sullivan who has seen first-hand the impact of the coronavirus on patients and the healthcare system through his work on the frontline as a junior doctor at University Hospital Limerick.
Speaking to RTÉ Sport after the announcement that inter-county GAA activity won't return until Easter at the earliest, the Monaleen clubman expressed his views on the important decision: "It's disappointing but it's understandable.
"I can see why the government and GAA have come to the decision when not so long ago, ICU was at capacity, and schools are closed.
Working multiple 24-hour shifts during the pandemic last year, O'Sullivan revealed how his commitments with Limerick, whom he captained to the Allianz League Division 4 title and promotion for 2021, provided a welcome distraction.
"At the same time, the year gone by really highlighted the social importance of the GAA for me. It's good for your physical and mental health, it equips people with social skills. GAA has really given me the skills to survive the year," he continued.
"It's a very healthy pastime if done right. It has minimal risk with regards to over-running the health service and the capacity of ICU beds. That has to be clear in decision-makers' heads.
"If it is done right, with strict social distancing, no congregating indoors and good hygiene measures, I think the social benefits outweigh the risks involved. There is minimal risk outdoors."
Most Read Stories