Sam Maguire Cup & Tailteann Cup draws next Monday
June 16, 2023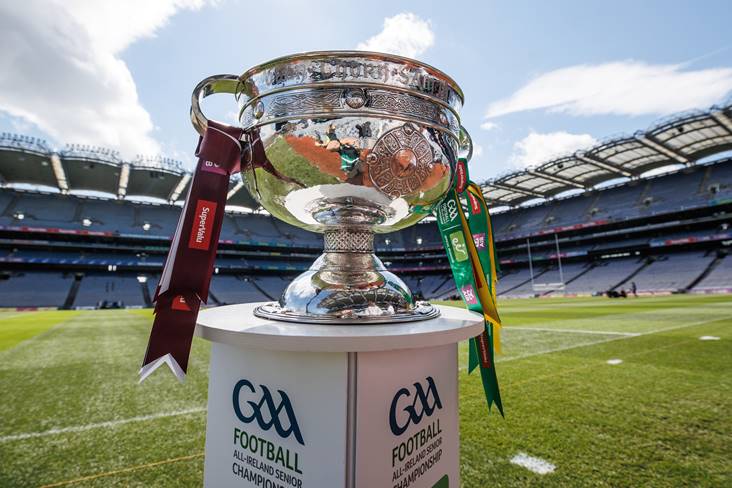 The Sam Maguire Cup before the All-Ireland SFC final clash between Galway and Kerry at Croke Park. ©INPHO/James Crombie.
The draws for the semi-finals of the Tailteann Cup and the preliminary quarter-finals of the Sam Maguire Football Championships will take place on Monday morning next on Morning Ireland on RTÉ Radio 1 after the news at 8.30am. The draws will be conducted by Derek Kent, Chairman of the C.C.C.C and Feargal McGill, GAA Director Player, Club and Games Administration.
Sam Maguire - Preliminary Quarter-Final Draw:
The four second-placed teams from Round 1 are drawn to play at home against the four third-placed teams, subject in the first instance to the avoidance of repeat Provincial Final pairings and where possible, repeat pairings from Round 1 (Group Stages). These games will take place on the weekend of June 24th /25th.
Tailteann Cup – Semi-Final Draw
The four Quarter-Final winners from this weekend's games will be drawn to two Semi-Finals - subject to avoidance of repeat pairings from the overall championship where possible. The Semi-Finals are due to take place on Sunday, June 25th at Páirc an Chrócaigh.
Fixture details for both the Sam Maguire Preliminary Quarter-Finals and the Tailteann Cup Semi-Finals will be confirmed by the C.C.C.C on Monday afternoon next.
Note 1 - There is a possibility that a Draw for the Tailteann Cup Semi-finals will not be required, depending on the outcome of this weekend's fixtures
Note 2 – The CCCC will confirm final details for both draws (i.e. what teams are in Bowl 1 and Bowl 2 in the Sam Maguire, what pairings cannot happen in both draws etc) on Sunday evening.
Most Read Stories